Troy Davis: A Stay of Execution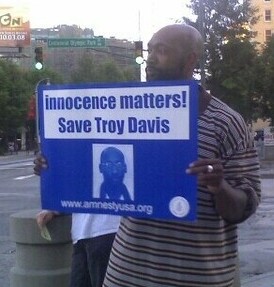 Last Saturday a protest rally was held, in front of the CNN center in Atlanta, GA. It was for a man named Troy Davis; a man on death row for allegedly killing a police officer.
Troy Anthony Davis, a thirty-nine year old former sports coach, allegedly killed a police office in Savannah, GA. He was convicted purely on eye-witness testimony and since his conviction, seven of the nine witnesses have recanted their account. Appealing his case has been difficult due to the Antiterrorism and Effective Death Penalty Act (AEDPA) signed in under the Clinton era which made appeals difficult for convicted criminals and sped up their sentencing1.
The protest in Atlanta on Saturday, September 20th, was a small one, but one filled with very loud and dedicated people. A camera man from the group filmed the dozen or so protesters who chanted phrases such as "Free Troy Davis" and "No Justice, No Peace." Pamphlets were handed out, some people honked their horns as they drove by in agreement, some asked what the protest was about, and some screamed profanity out their car windows. At one point a CNN reporter interviewed some of the protesters and took sound bytes on her cellphone to air on CNN radio.
On Tuesday, September 23rd, the US Supreme Court issued a stay of execution less than two hours before Troy was to be put to death. The stay was only issued so the US Supreme Court could decided if they would hear his case. Davis's last appeal for a new trail was shot down in a 4-3 ruling by the Georgia Supreme Court2.
1 Will Georgia Kill an Innocent Man? Lowe. Time Magazine. June 13, 2007.
2 Supreme Court issues stay of execution for Davis Cook, Rankin, Garner. The Atlanta Journal-Constitution. September 23, 2008.