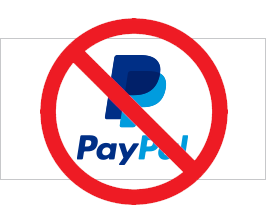 By now, everyone has heard that PayPal made a change to their acceptable use policy, allowing them to fine people $2,500 for promoting "misinformation" or "hate." Although they have since rescinded the change1, the damage is already done. There has been a mass exodus of people deleting their PayPal accounts. I have minimized my use of PayPal since they started censoring several people and organizations I respect2, for the past several years3, including conservatives4, people who investigated American political prisoners5, the Democratic Party of Hong Kong6 and Wikileaks7.
I have been weary of PayPal for over a decade. However, even I was unprepared for the brazen changes to their policies, indicating they somehow had the right to punitively fine people for viewpoints that PayPal finds unacceptable. On the heals of the PayPal debacle, JP Morgan Chase informed Kanye West they were terminating his bank accounts; that he would need to transfer his funds and business to another bank by November8. This is the same JP Morgan Chase who kept Jeffrey Epstein as a client for five years after he pleaded guilty to sex crime charges, despite warnings from their compliance officer910.
For years, financial institutions have been weaponizing their services to unbank and unperson, both individuals and organizations, who profess heterodox ideas. Their financial balance sheets are so large, filled by the coffers of taxpayers from the 2008 government bailouts, that they fear no repercussions for their actions.
Gaslighting
When people started canceling their PayPal accounts, many were greeted with a message indicating they had received "misinformation" about "An [Acceptable Use Policy] notice [that] recent went out in error that included incorrect information11". This is and astonishing level of gaslighting.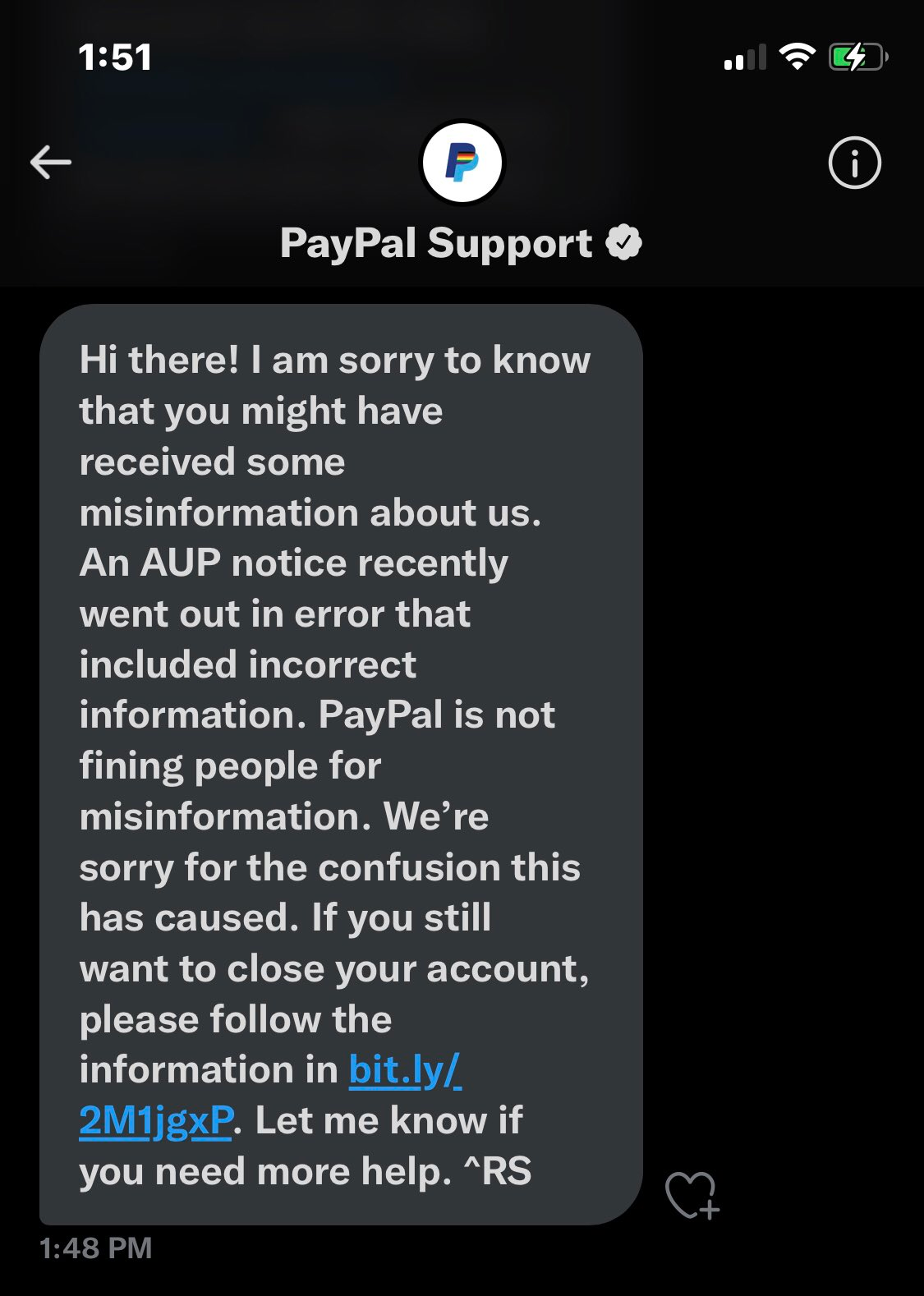 No PayPal, it is quite obvious the changes made to those terms didn't go out by mistake! Instead of taking responsibility for their insane policy change, they lied to their userbase by indicating this change wasn't intentional. They thought they could sneak in this addendum without anyone noticing. When they were called out on it, they had the audacity to claim it is "misinformation," and then try and offer people $15 to not close their accounts12.
The Limits of the Individual
There is only so far people can go by voting with their dollar. I recently bought storage bins at Walmart, after not shopping in their stores for over twelve years. No other local retailers sold what I was looking for at a reasonable price. Even though Walmart trains their employees with racist ideology13, I could no longer support Target as they started selling chest binders marketed at transgender teenagers1415. It is now impossible to purchase basic merchandise from companies that are not morally bankrupt.
I was too exhausted and defeated to close my Citi account when they mandated their employees take experimental and untested drugs in direct violation of their medical privacy16, a decision that will be the next to rectify. Switching to a local bank or credit union seems more imperative than ever.
The Final Straw is Still Far Away
There are questions as to whether PayPal's new acceptable usage policy may have even been legal. In the past, they have closed accounts and refused to disburse the remaining funds5, something that even banks do not attempt8 due to the stricter regulations around their governance. Still, banks and payment gateways are not treated as utilities, and they are actively escalating the growth of corporate censorship.
New payment gateways are arising. Parallel Economy is one such provider. They addressed a recent press release from the Department of Homeland Security which accused anyone of undermining public trust in government as domestic terrorist17. Still progress for new services may be slow to scale up, as they'll have to avoid the mistake Parler made by depending on big tech infrastructure.
We're a long way from people abandoning their social media accounts, but the PayPal fiasco shows that people are at least willing to delete accounts they forgot existed from a company that has lost all credibility and relevance. However, many will likely keep their Venmo accounts, despite the fact that it's owned by PayPal and has had massive privacy issues for years1819.
Consumers are a long way out from having major providers they can purchase from that are not bound by diversity equity and inclusion (DEI) goals, or environmental social and governance (ESG) ratings. Still, every small action is important in building systems that provide real value; economies that will outpace and crush the growing market of woke ideology. For now we must do what we can, simply to support companies that don't hate us.
PayPal Reverses Course, Says Company Will Not Seize Money for Promoting 'Misinformation'. 8 October 2022. Stieber. The Epoch Times. Archive ↩

Paypal Have Terminated my Account. 13 January 2022. Computing Forever ↩

PayPal bans independent journalists, seizes donations. 22 July, 2021. Alison Morrow. ↩

Today I was banned for life from Paypal for donating to Quodverum.. 5 August 2021. @ThomasWic@social.quodverum.com (Archive from 6 August 2021) ↩

PayPal ban after Jan 6 / Whitmer kidnapping interviews - Radix Verum. 16 August 2022. Alison Morrow. ↩ ↩2

PayPal terminates account of Hong Kong Democracy Party. Henney. ReclaimTheNet. 13 October 2022. Archive ↩

PayPal Freezes WikiLeaks Account. 4 December 2010. Poulsen. Wired. ↩

Earlier today I learned that @kanyewest was officially kicked out of JP Morgan Chase bank. I was told there was no official reason given, but they sent this letter as well to confirm that he has until late November to find another place for the Yeezy empire to bank.. 12 October 2022. Candance Owens. Archive ↩ ↩2

JPMorgan Kept Jeffrey Epstein as a Client Despite Internal Warnings. 8 August 2019. Fitter. Silver-Greenberg. The New York Times. ↩

Image of Jeffrey Epstine headline and Kanye West headlines. 14 October 2022. @Effortless@noagendasocial.com Mirror ↩

Paypal making it hard to close accounts. 10 October 2022. @Autumn@noagendasocial.com Mirror ↩

PayPal Appears To Be Desperately Offering Bribes Of $15 To Stop Droves Of People Cancelling Accounts. 13 October 2022. Watson. Summit News. ↩

Walmart stands by CRT training as 'thought provoking' and 'instructive'. 20 October 2021. O'Neil. Fox Business. ↩

An Honest Review of Target's New TOMBOYX Compression Top. 31 May 2022. Stephenson. Bussle. ↩

Target launches trans merch for kids as well as chest binders, 'packing underwear'. 11 May 2022. Emmons. The Post Millennial. ↩

Citigroup to fire unvaccinated employees from January 14. 7 January 2022. Reuters. CNBC TV 18. ↩

Don't look now, but if you think for yourself, you're probably a domestic terrorist. Wernick. Parallel Economy. (Retrieved 14 October 2022.) ↩

Why I Blasted Your "Drug" Deals on Twitter. 20 July 2018. Guerra. Medium. ↩

I know what you did on Venmo: Discovering privacy leaks in mobile social payments. 2002. Tandon, Charnsethikul, Mirkovic, et. al. STEEL. (Retireved 14 October 2022) ↩