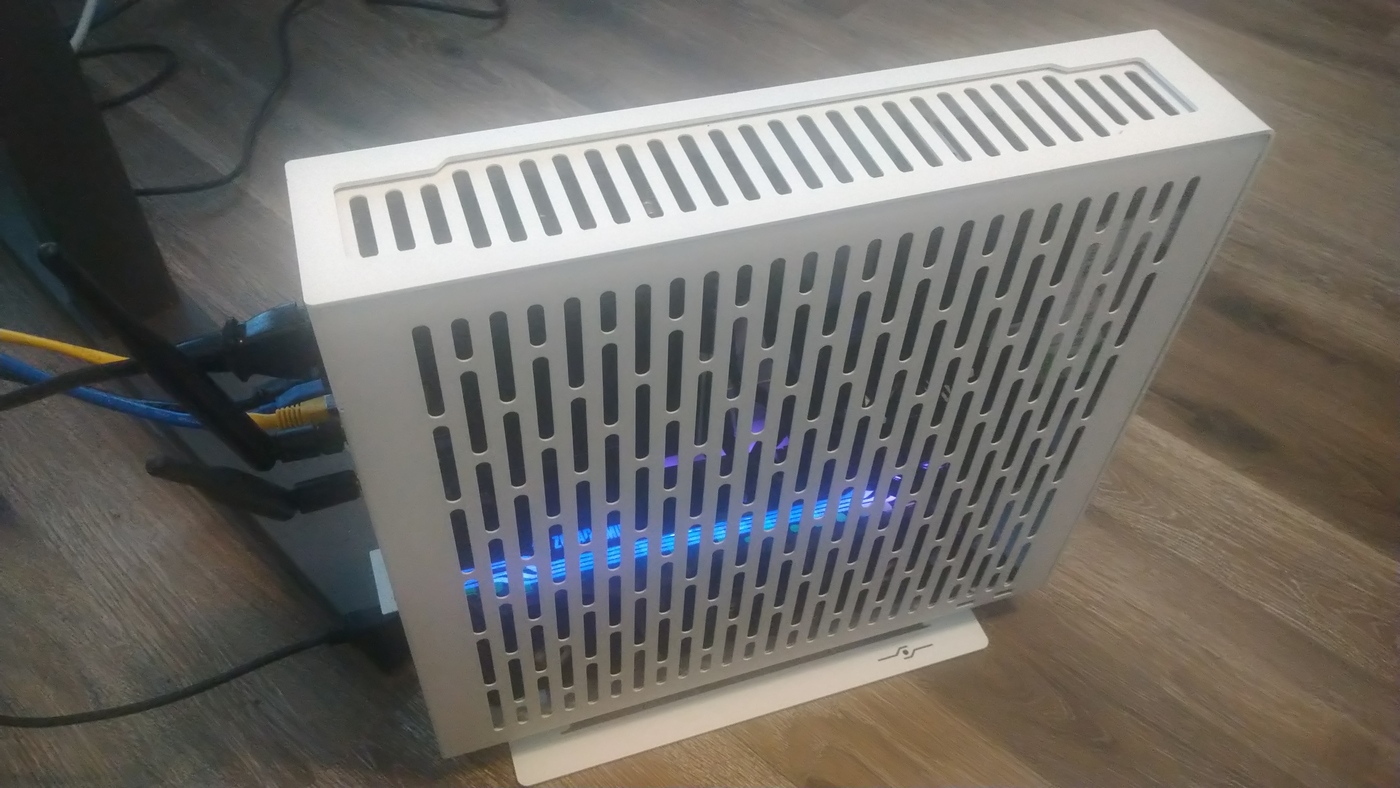 For the past few years, my gaming rig has been an MSI Trident-X, a prebuilt PC that uses standard ITX components. It replaced my previous gaming laptop, which I also upgraded a few years ago. The Trident-X case does fit a standard PCI-E video card, so I thought it would a good future-proof system. I've upgraded the storage of this unit, although not without issues. Back when the current generation of nVidia and AMD graphics cards were announced, I noticed most of them were over 2.5 to 3 slots wide, and likely wouldn't fit in the current Trident-X enclosure. I watch way too many tech reviews, and found myself pre-ordering an SFF Time P-ATX V2 case1. I had the intentions of moving the guts of my gaming PC into an enclosure that could support newer video cards, sometime in the distant future. I placed a pre-order in February, and the case shipped fairly quickly in March. However, it was held up in shipping due to the pandemic, and didn't arrive until recently. The far future turned into this summer. I moved my gaming PC components into this very nice small form factor case, while adding a few upgrades.
SFF TIme P-ATX V2 Case
I was afraid that disassembling the MSI would lead to the discovery of non-standard parts. Fortunately, the only truly custom component was the PCI-E riser for the video card, which contained a USB connector for an RGB LED controller. Since I don't really care about color LEDs, I just uninstalled the MSI software used to control it.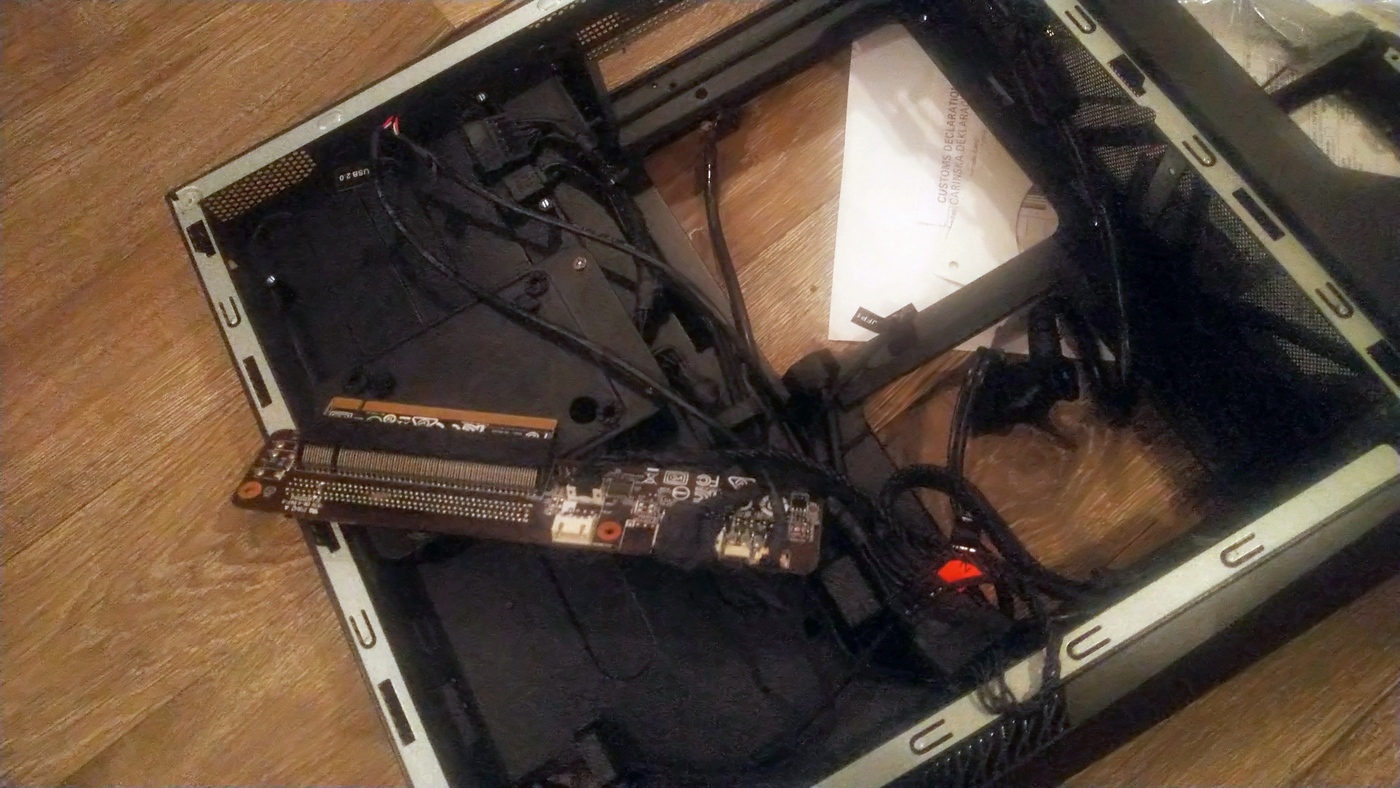 The SFF Time P-ATX V2 has a fairly straight forward and clean design. For such a small form factor, it feels like there is an incredible amount of room within this case.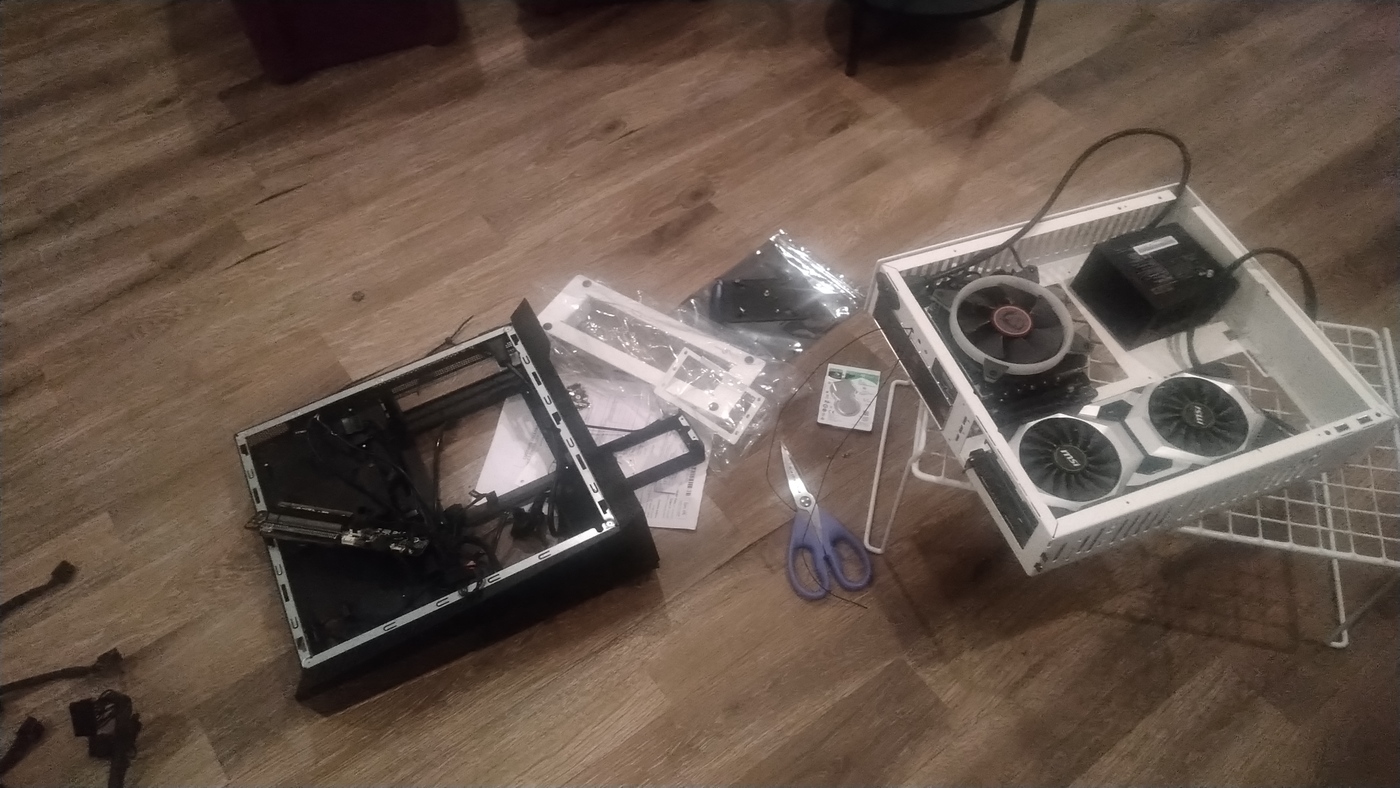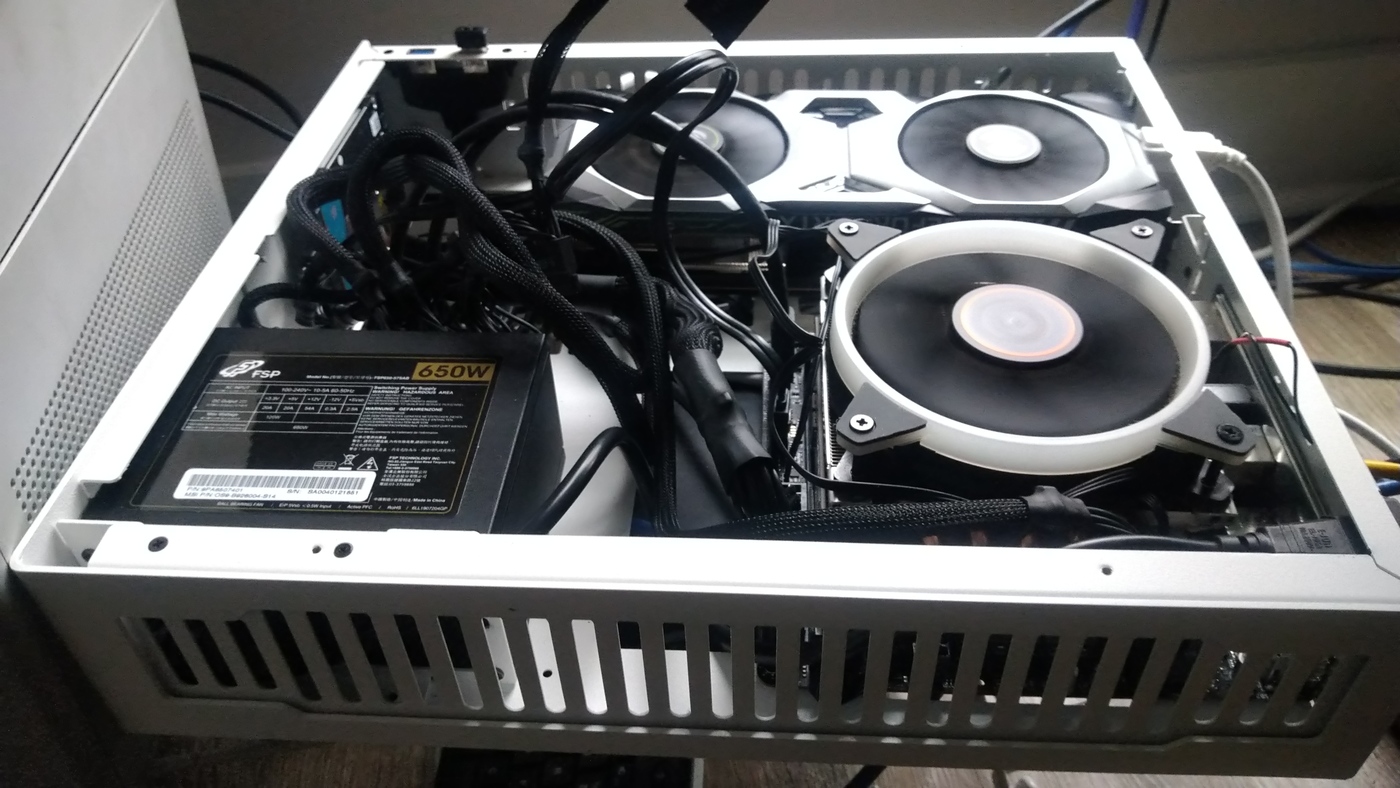 Video Card
I refuse to give any money to scalpers. When the Sony PlayStation 5 came out, I diligently followed stock tracking sites, message boards and chat bots. It took several weeks, but I bought a PS5 from Sony at the retail prices. I did not scalp it on eBay. Instead, I played games on it, because I'm not a terrible human being.
I was able to find a 3080-Ti, directly from Zotac's website. They've managed to keep the AMP Holo version of their card in stock, although at seemingly inflated prices. I was following eBay prices and figured I could sell my current 2080-Ti for a decent amount, making the upgrade more manageable.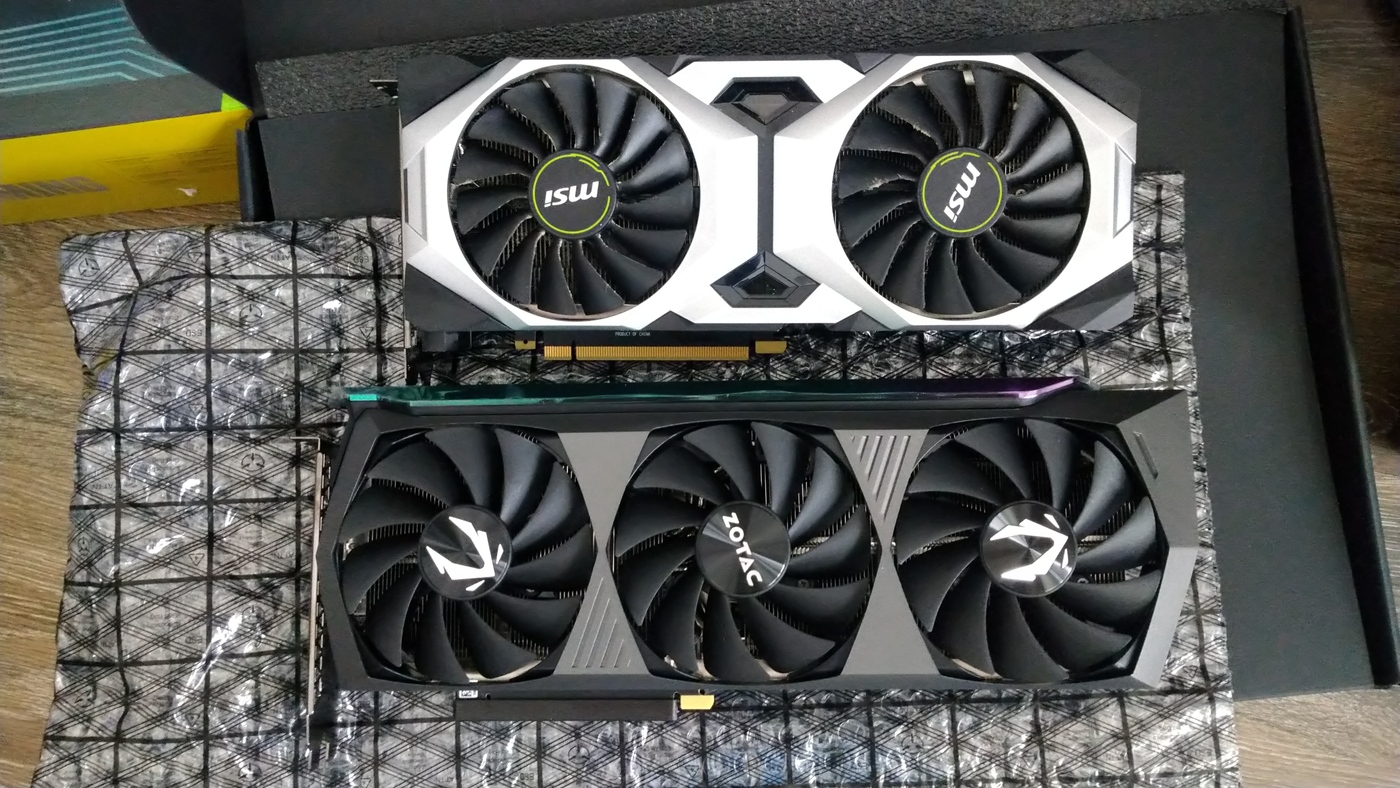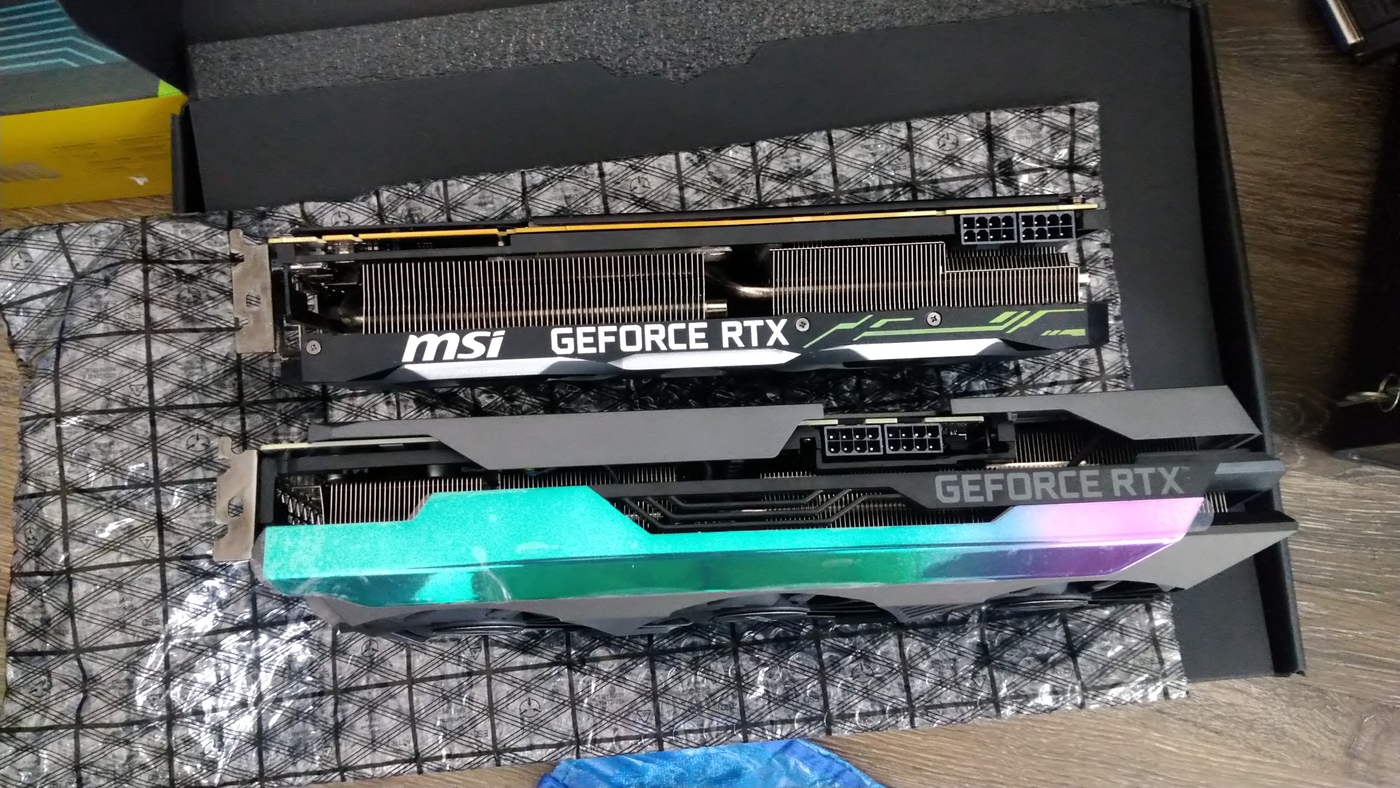 The Zotac didn't seem to have thermal pads on the Voltage Regulators (VRMs). They seem air cooled, where on the MSI, the VRMs directly touched the heat fins. Other high end 30xx series cards, such as the EVGA FTW, have thermal putty between the VRMs and the cooling block2.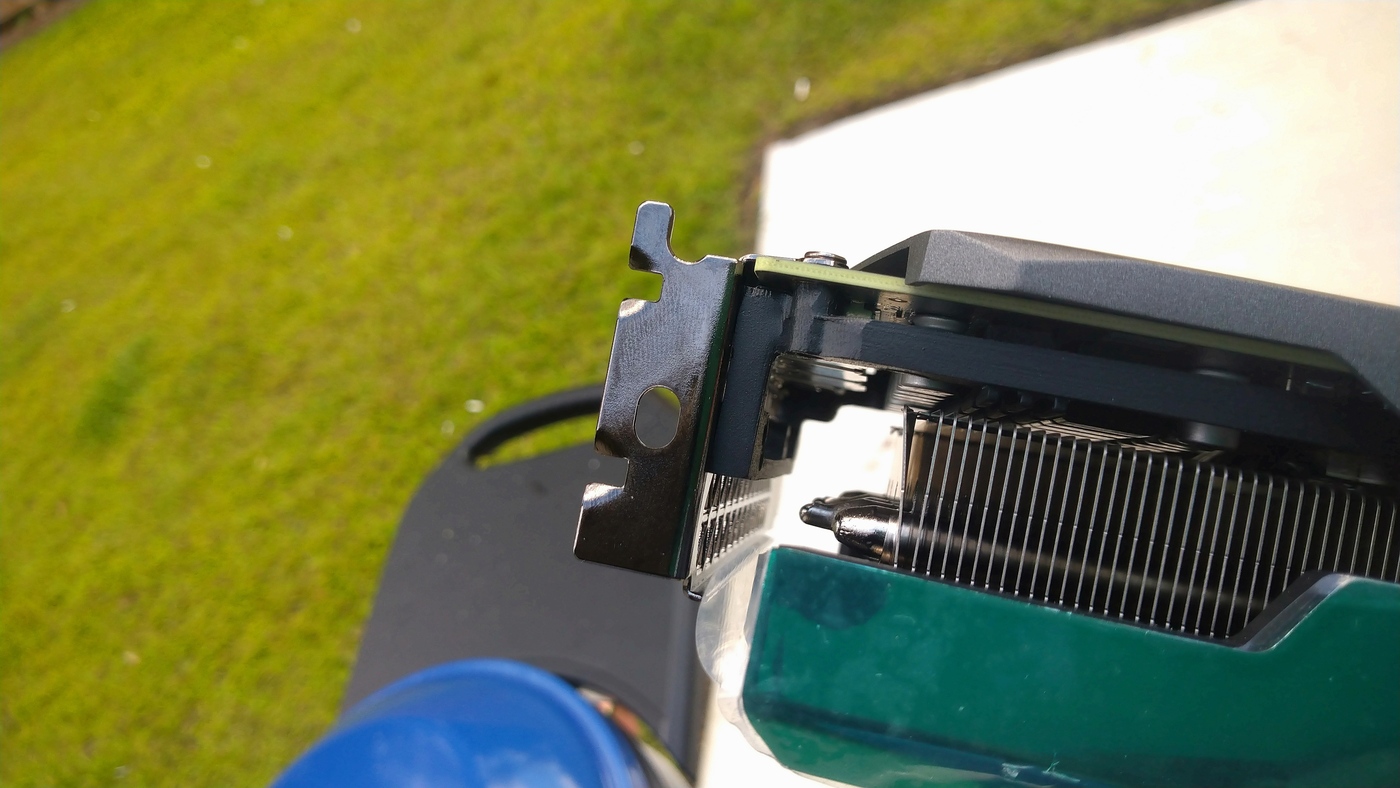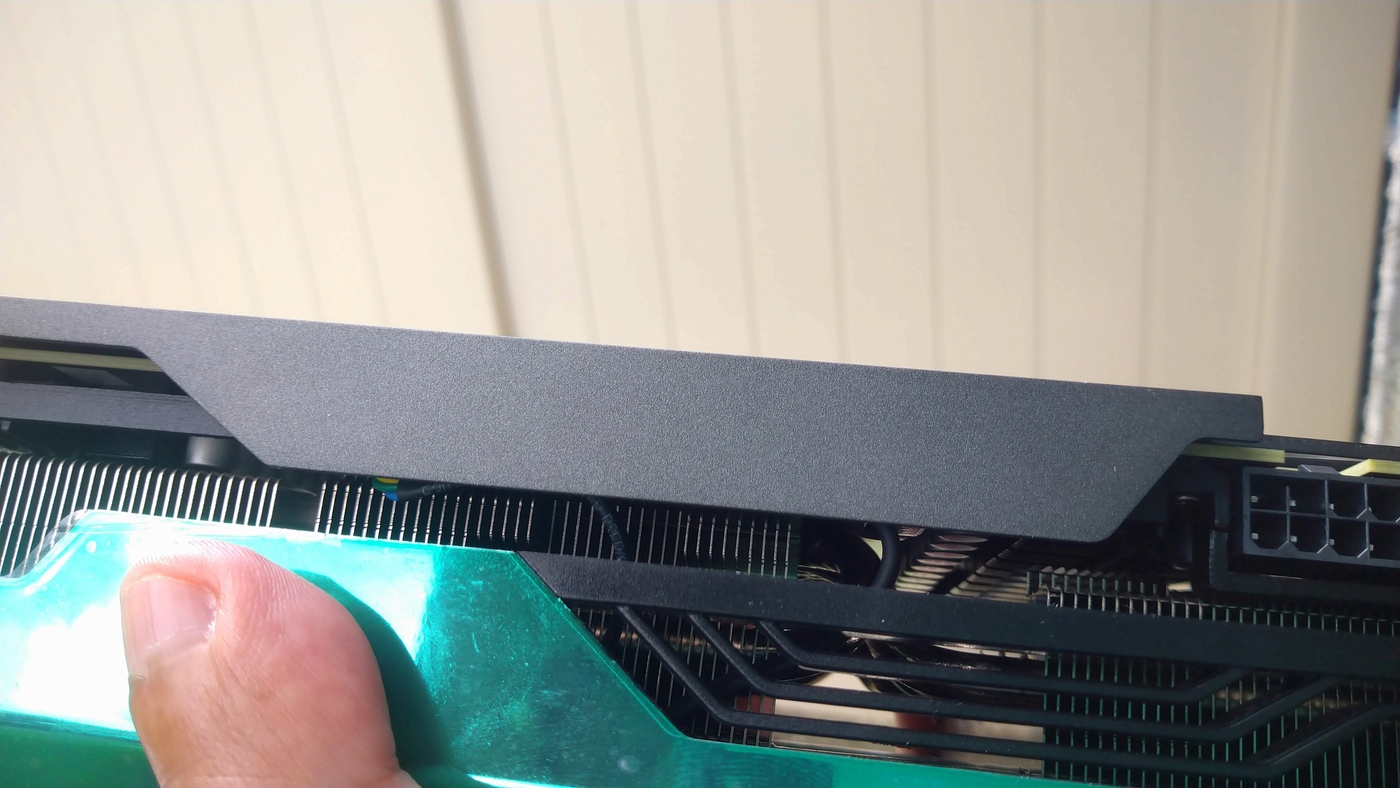 Due to the 3080-Ti's higher power requirements, I also switched out the 650w power supply for an 850w. The fans do run quieter for the same games and workloads than the 2080-Ti.
eBay Inflation
I was able to sell my used graphics card for $995 on eBay, which is fairly close to what the MSRP was for that card three years ago, brand new.
| Item | Cost | Shipping | Fees | Total |
| --- | --- | --- | --- | --- |
| Zotac 3080 Ti | $1,699.99 | $32.13 |   | $1,732.12 |
| MSI 2080 Ti (Sale) | -$955.00 | $9.90 | $121.09 | -$843.51 |
| Total Upgrade Cost |   |   |   | $888.61 |
Unfortunately, eBay took a massive 12.55% in fees! I haven't sold any electronics on eBay in a few years, so I was unaware at how absurd and outlandish their fee model is now. For comparison, here are the fees from a laptop I sold in 2019, as well as my upgraded gaming laptop I sold at the beginning of 2020.
| Date | Item | Sale Price | Shipping | Fees | Fee % | Total Revenue |
| --- | --- | --- | --- | --- | --- | --- |
| 13 February 2019 | Dell XPS 15-9550 | $449 | $30 | $21.40 | 4.5% | $458.20 |
| 10 January 2020 | MSI GS60 | $460 | $35 | $13.64 | 2.8% | $446.36 |
| 17 August 2021 | MSI 2080-Ti | $955.00 | $9.90 | $121.09 | 12.5% | $843.51 |
12.5% is absolutely absurd compared to fees from the previous years for electronics sales. Had I known how outrageous a cut eBay would take, I probably would have attempted to start a store on one of the other marketplace sites.
Wi-Fi
Normally, a motherboard with built-in Wi-Fi would have two RP-SMA screw terminals on the I/O plate to allow connecting antennas. The MSI just had two wires where the screw terminals would normally be. They were soldered directly to an antenna built into the stand on the original Trident-X case.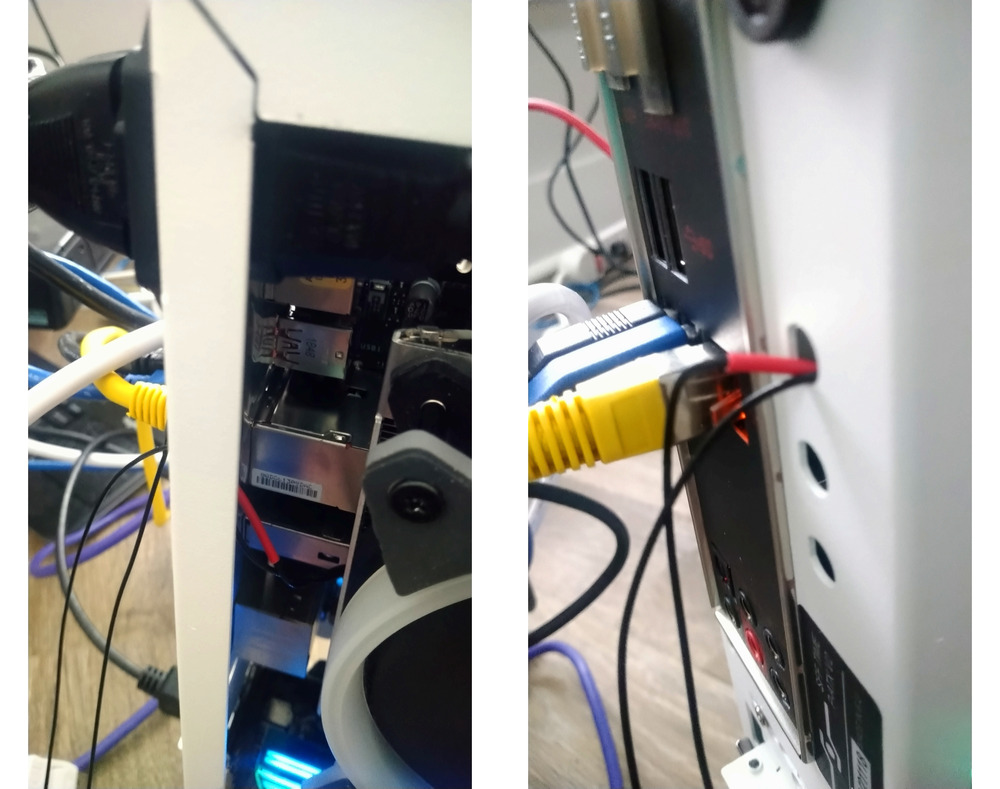 At first, I thought I would have to solder these to traditional Wi-Fi connectors, but upon closer inspection, it seems like the wires terminate into a standard M.2 Wi-Fi card mounted vertically in a mini-PCI-E slot. I could simply attach standard W.FL connectors to the existing card. I had always thought motherboards that supported Wi-Fi had the chips embedded on the boards themselves. After looking at this board, I'm wondering if most of the motherboards with Wi-Fi antenna connectors simply house a standard, replaceable, laptop mini-PCI-E Wi-Fi module.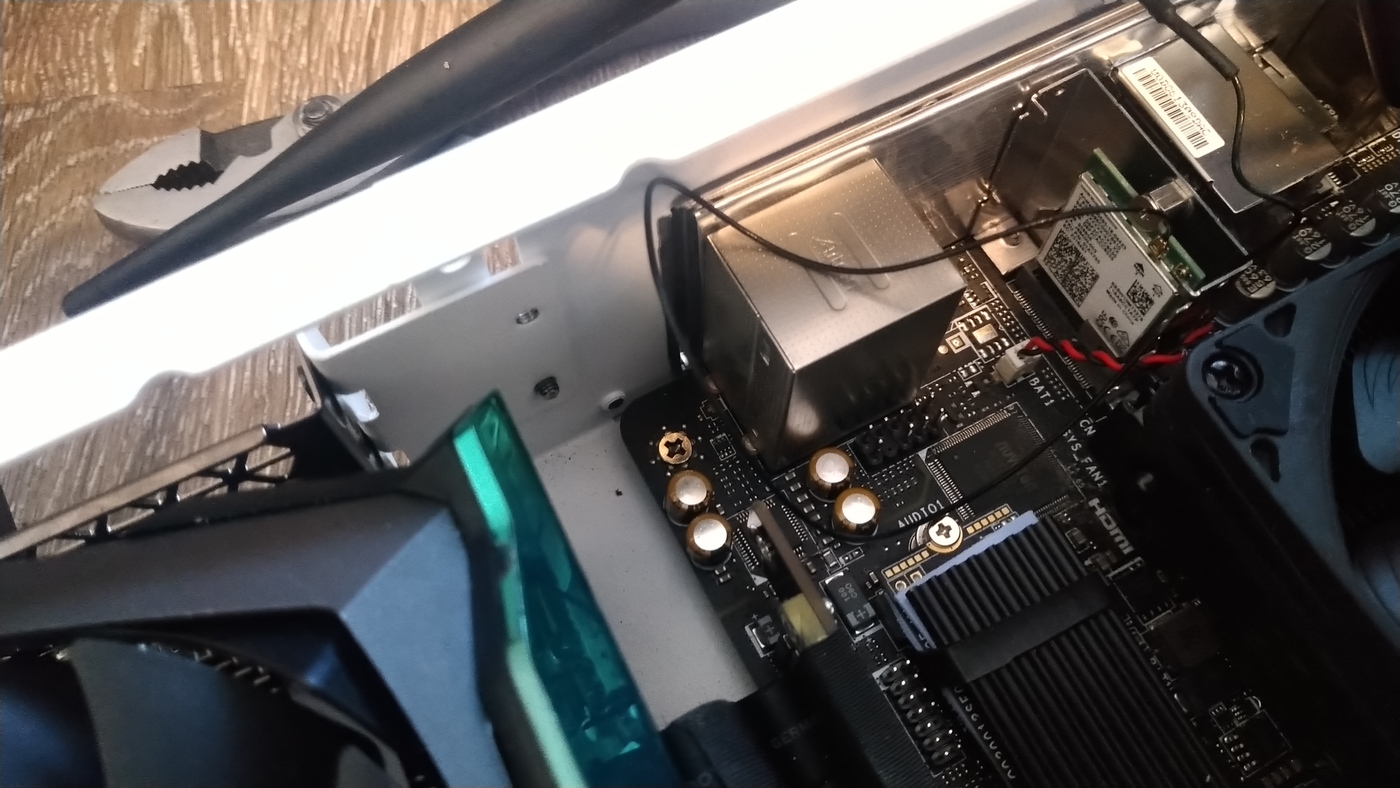 Other Upgrades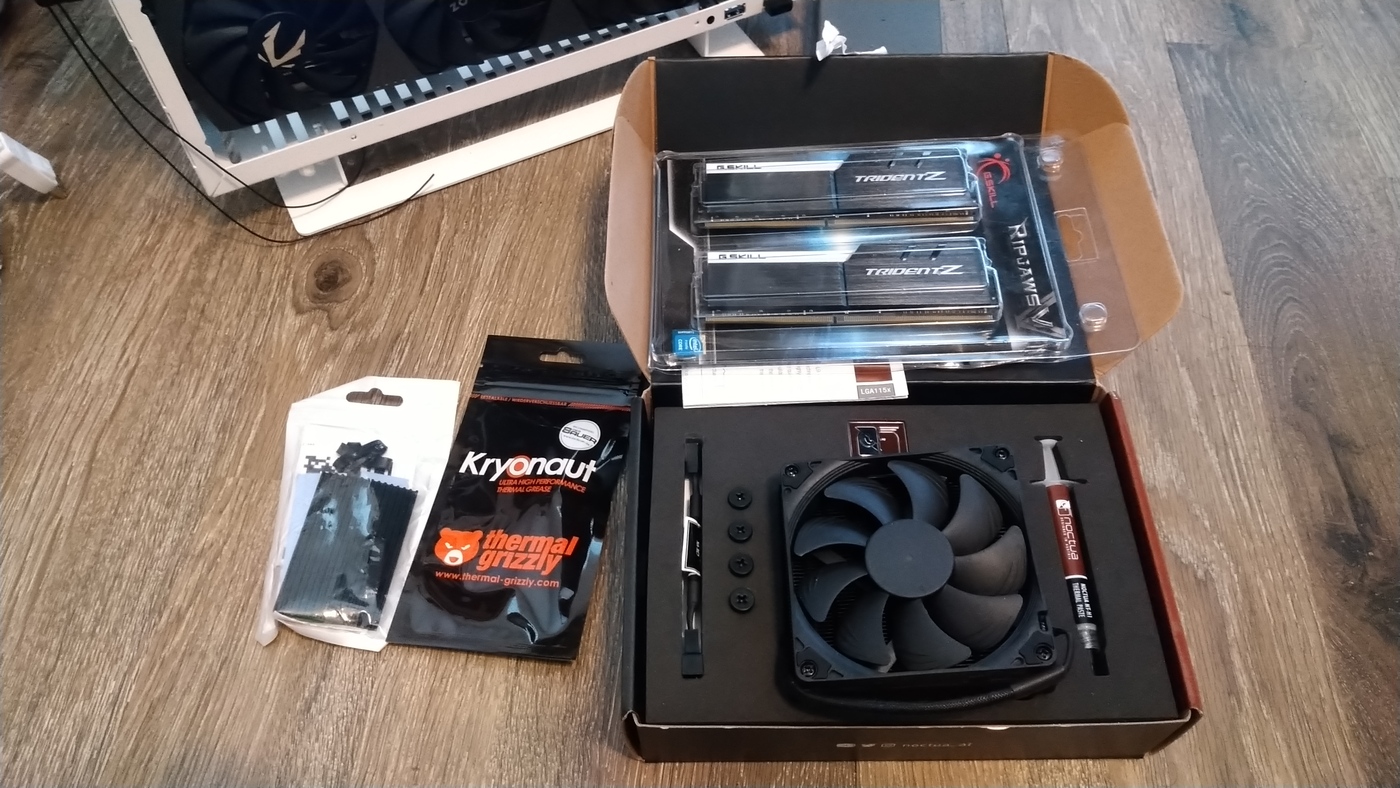 The cooler from the original machine has four copper heat pipes and a pretty large block of heat fins. Unfortunately, it is a bit too tall for this case. It also blocked off access to the M.2 slot, meaning I'd have to remove the entire heat sink to access the NVME drive. It also had very little clearance for the memory modules, and I wanted to take this opportunity to upgrade the ram as well, using spare 2x16GB modules (32GB total) I had from another system.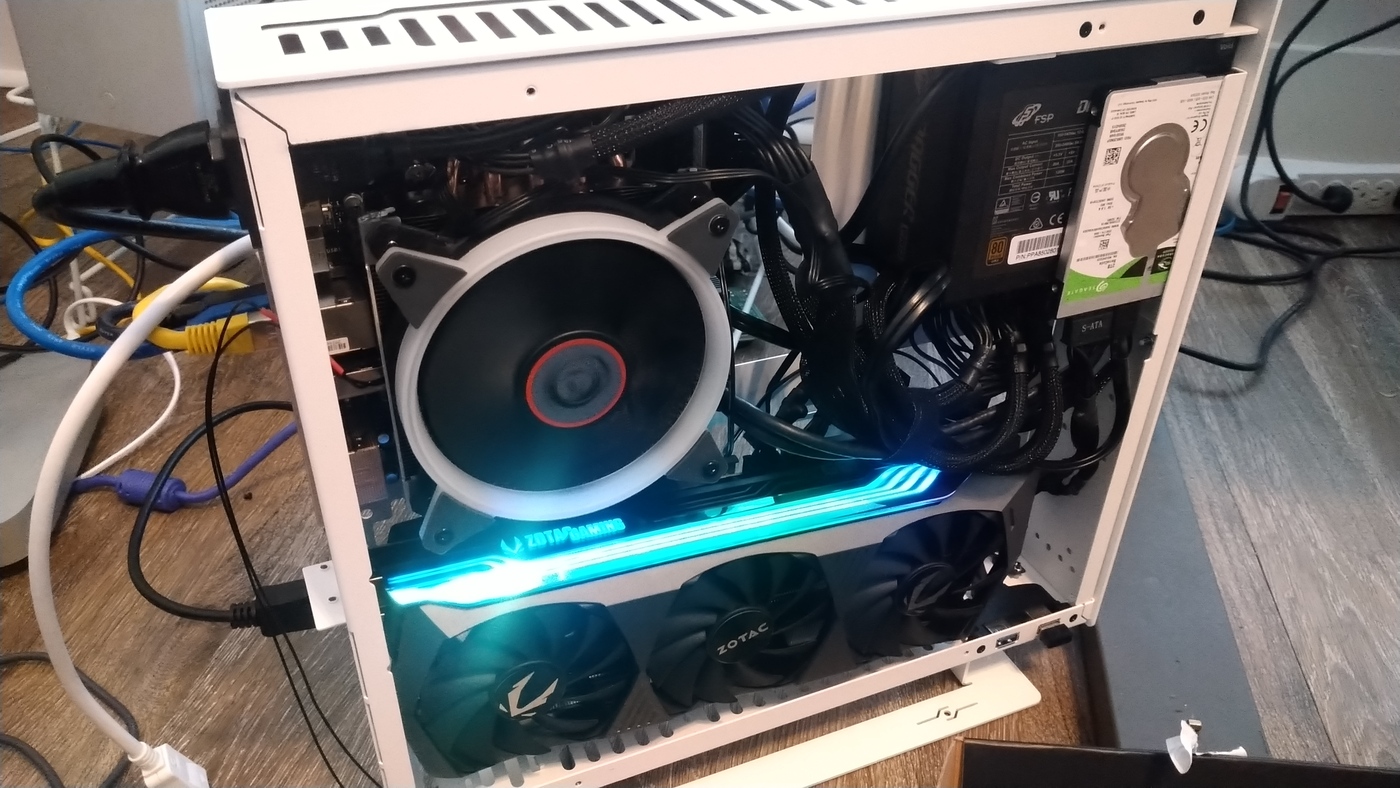 I also added thermal pads and heat spreaders to both sides of the M.2 drive, which was just air cooled previously. Sabrent does recommend cooling for this particular drive, which I had previously ignored. The SSD heat sink was scorching to the touch, so the drive was likely thermal throttling before. Hopefully the heat sinks extend the live of my storage device.
Thermals
I originally went with a Noctua NH-L9i, which I had used once in a previous build. It is a low profile cooler and the CPU does run hotter than with the MSI block.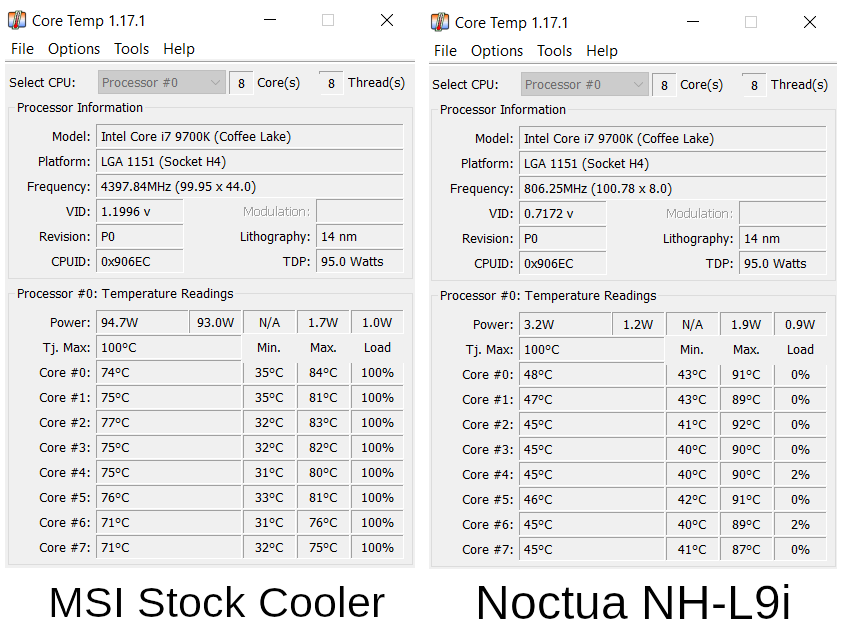 During benchmarks, the CPU didn't throttle, so I considered the higher temperatures acceptable. However, after some gaming sessions, I did start to encounter throttling.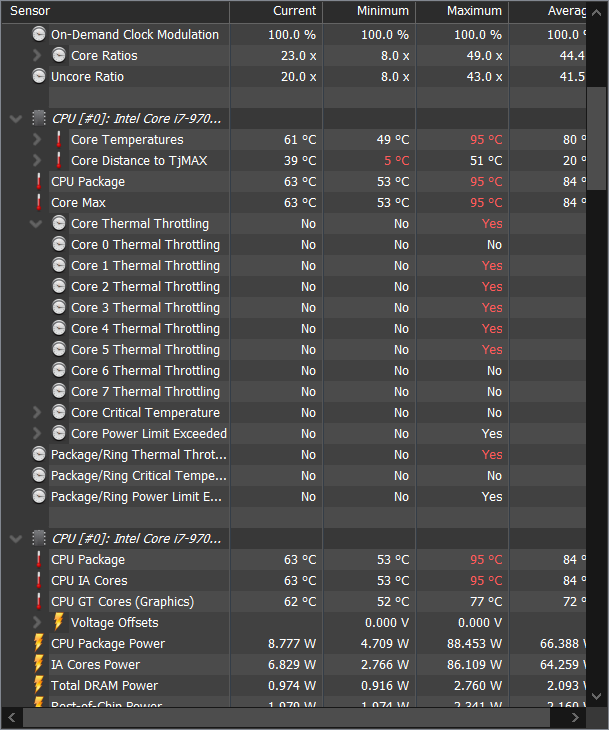 I found a decent review of low profile coolers from the reviewer Not From Concentrate3. Based on his results4, I decided to replace the Noctua with a Scythe Shuriken 2.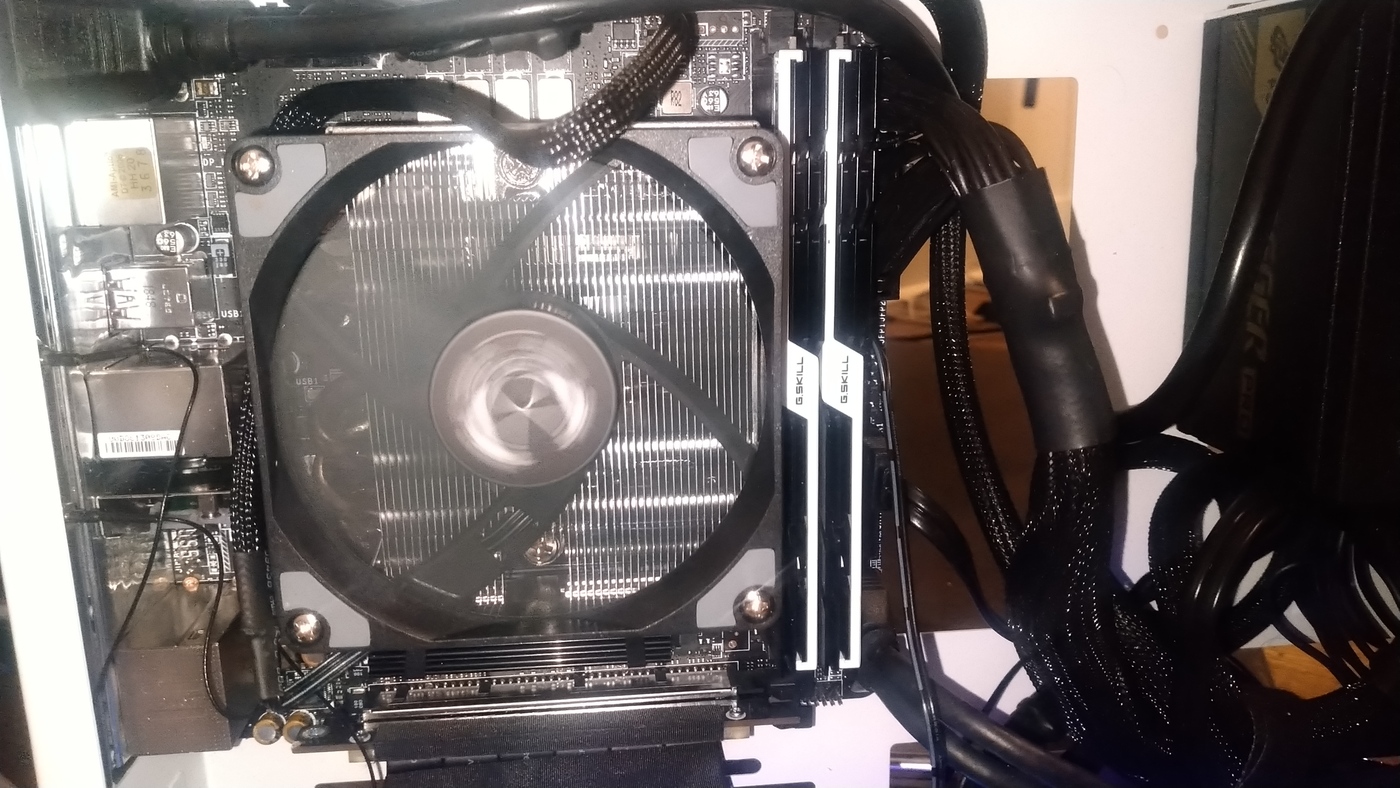 This is really the perfect cooler for this case. It sits just under the maximum height for the side panel, while also providing excellent cooling. Although it got a bit hotter than the stock MSI block, the temperatures were much more acceptable than the Noctua NH-L9i's and there was no thermal throttling.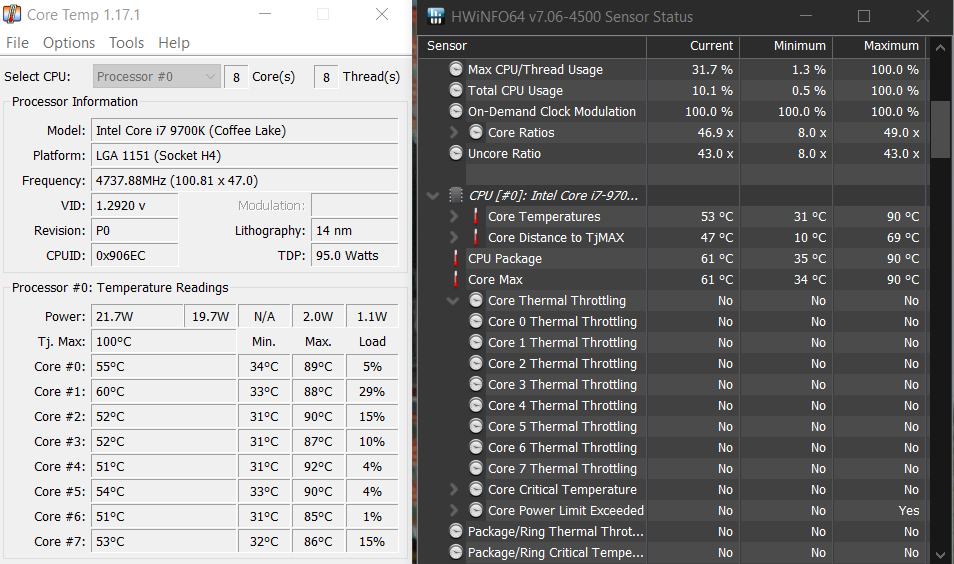 SFF Time P-ATX V2 Case
For the most part, this case is fairly solid. The only place where I ran into issues was with the vertically mounted PCI-E riser and slot mounts. As you can see from the photos, the card doesn't quite sit level within the bracket and PCI-E riser mount. I've taken it apart and attempted to refit the card a few times and no matter what I do, it's still a little janky.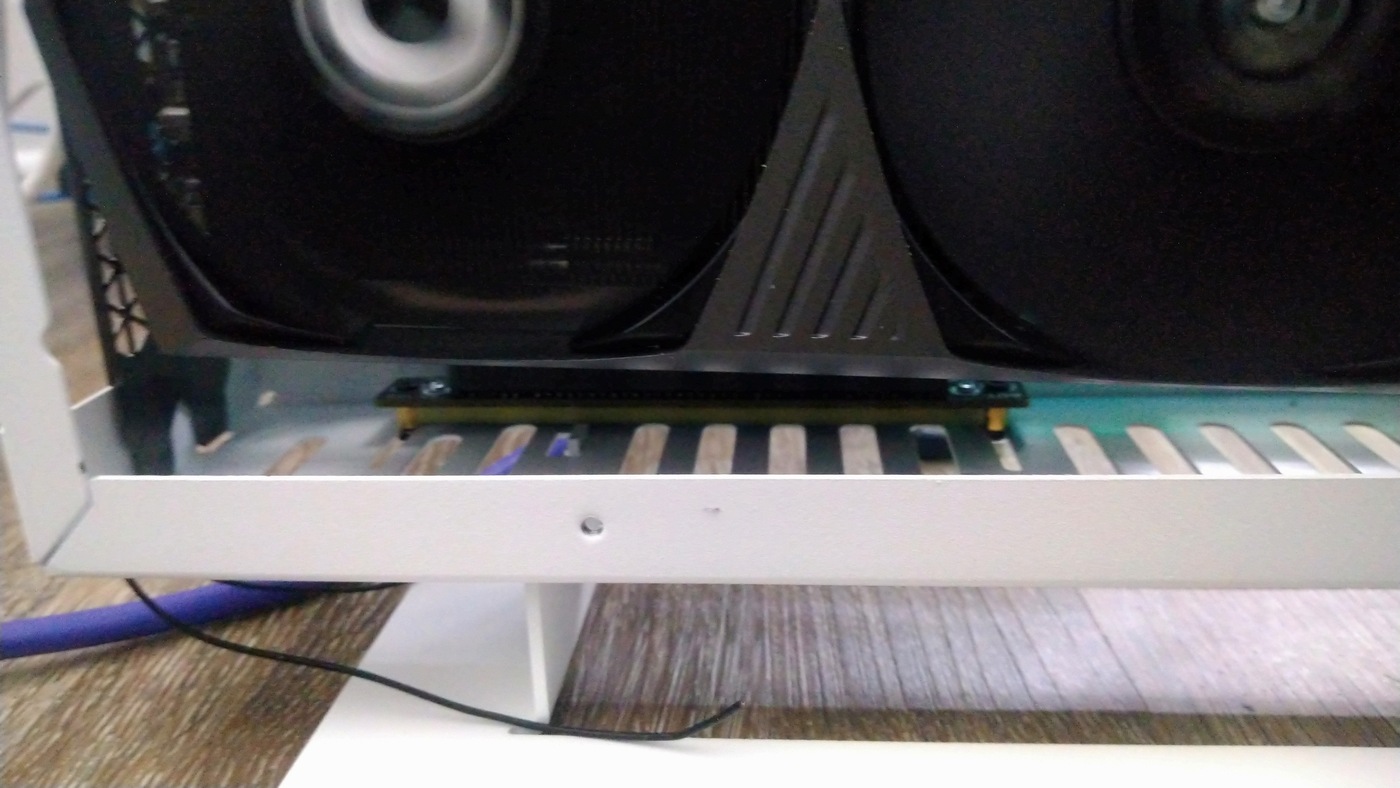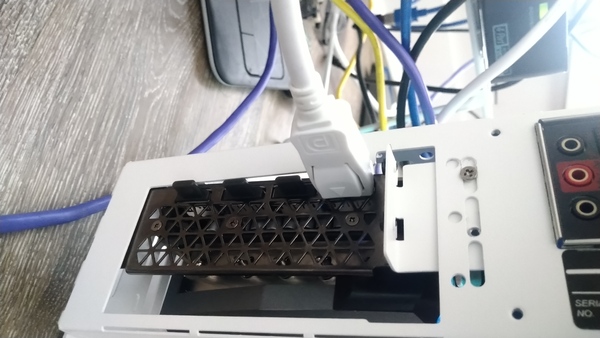 Closing Thoughts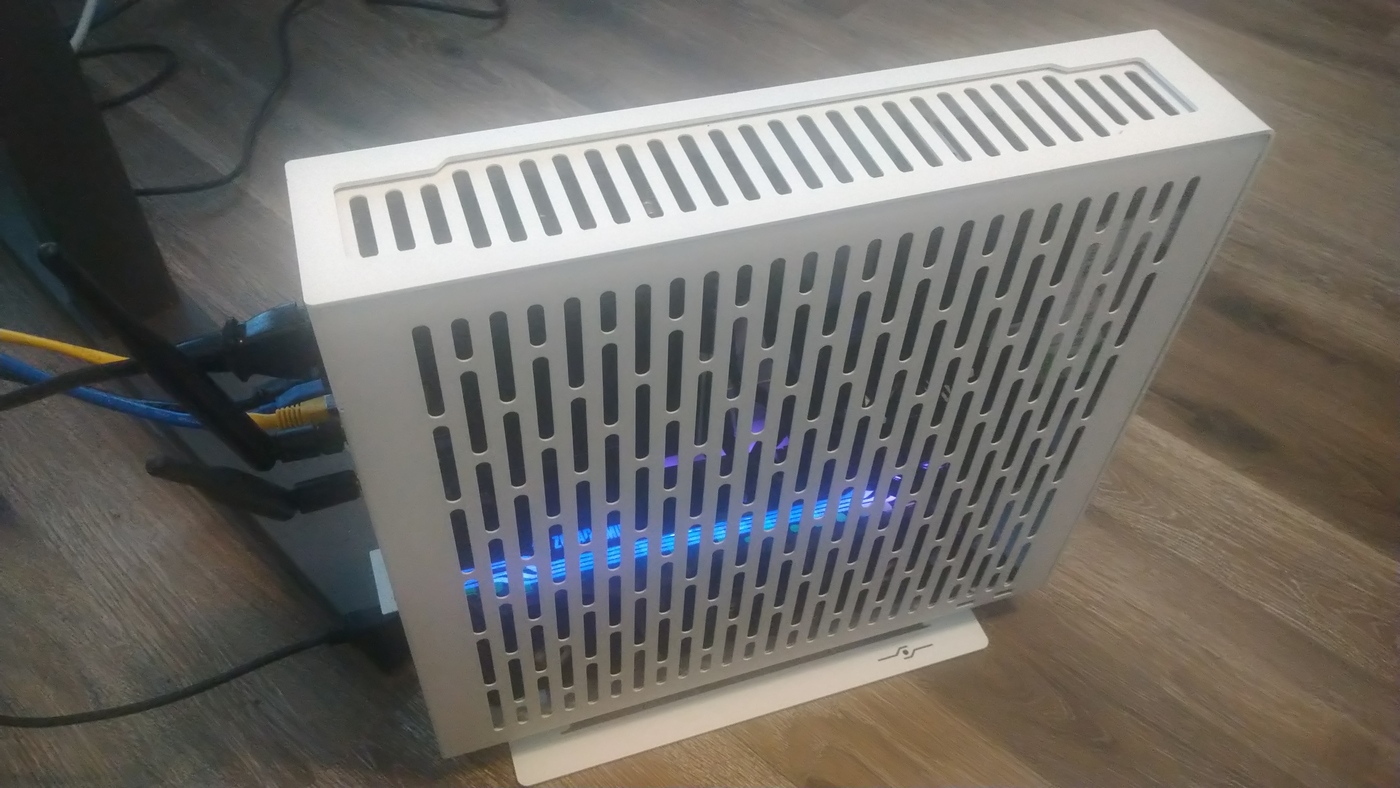 Was this upgrade worth it? Probably not. I do like this case, despite the GPU mounting issues. The video card is faster, and I have a 240Hz refresh rate on my monitor, so the difference is noticeable. The previous card was more than capable, and I've already played through Cyberpunk 2077, one of the more graphic intense titles to come out recently. Most of the games I want to play, which can really take advantage of this card, are due out later this fall. So I suppose I have a leg up. I can play several current and older titles at super high settings and frame rates for now, until the fall lineup of big releases hit the online stores.