Recent Keyboards: The Model M, Slice MK and Royal Kludge 84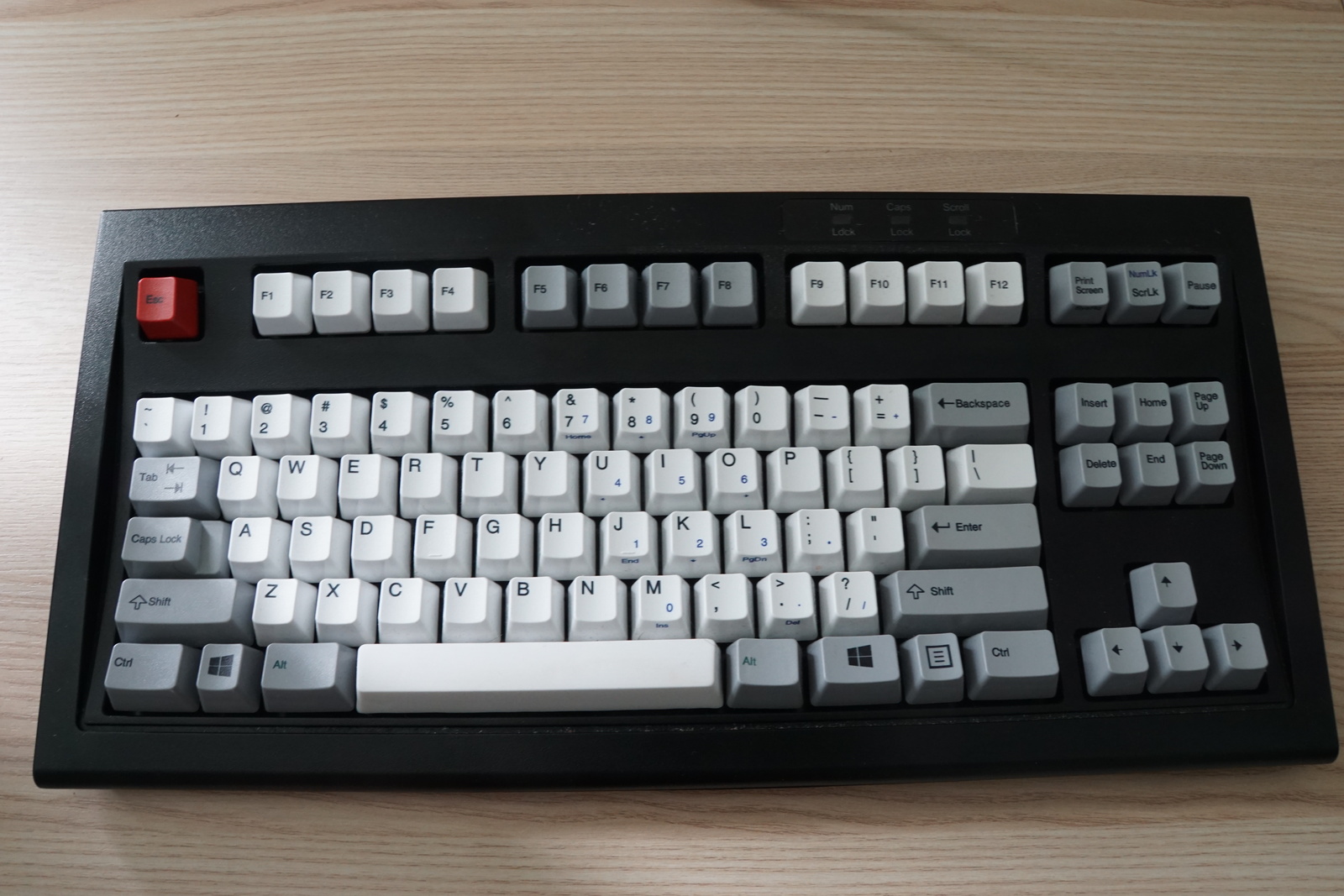 Three years ago, I made a list of every mechanical keyboard I've ever owned. I thought I had settled into the keyboards I would use for the foreseeable future. A year ago, a friend of mine gave me a modern Model M keyboard as a housewarming gift. I also started looking into split ergonomic keyboards, and built a Slice MK from a kit. Being my first ortholinear keyboard, I wasn't prepared for needing to relearn how to type. Eventually I went back to a staggered layout for my personal workstation while continuing to use the Slice MK for work. Below is an update to my previous post, with comments and criticisms of keyboards I've used over the past three years.
Unicomp Model M
Unicomp currently holds the license for the original IBM Model M keyboard. The last time I tried a model M, it was an authentic IBM version owned by a coworker of mine. I didn't really care for it at the time, and that coworker later purchased my Das Keyboard before I left the country.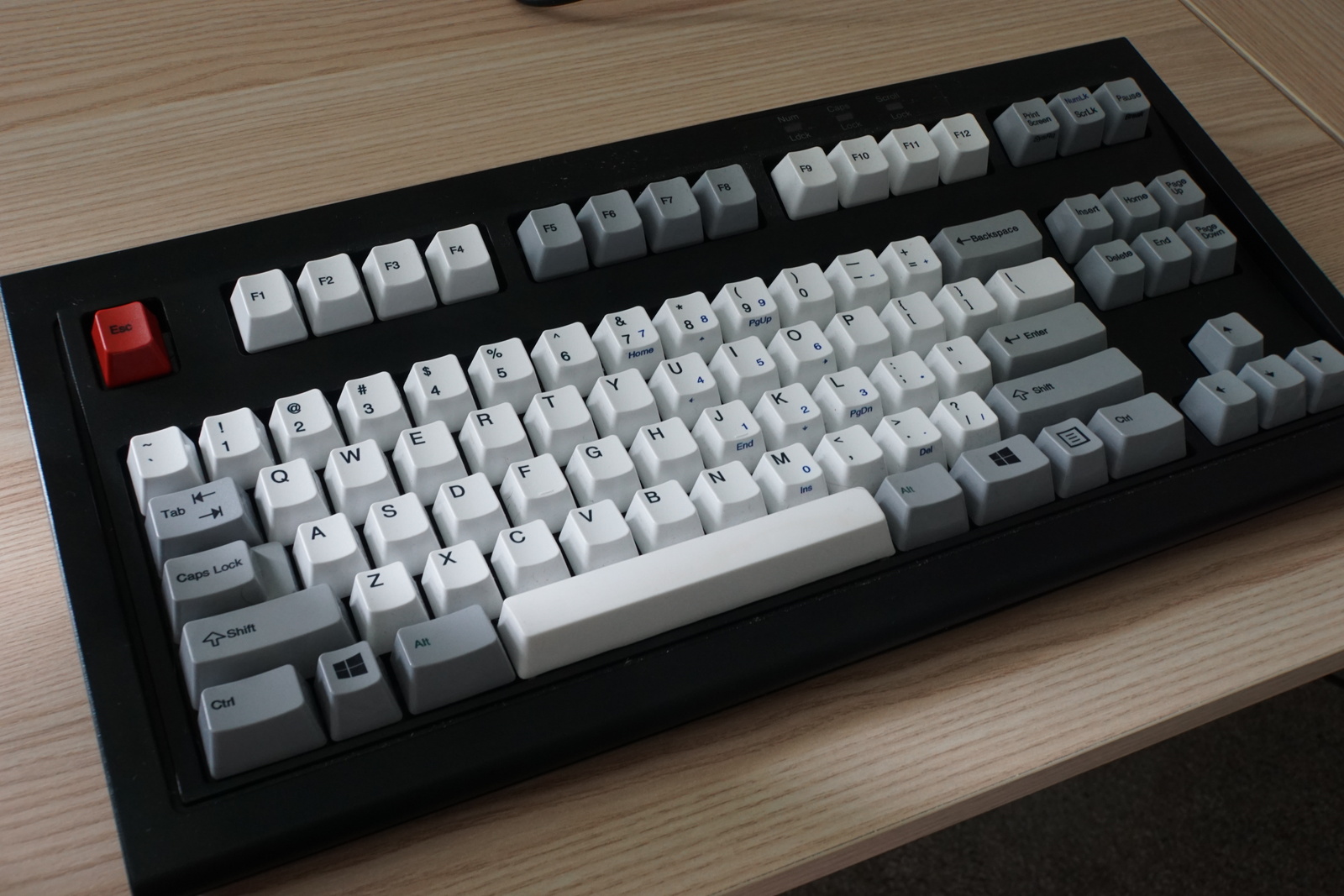 A good friend of mine gave me a modern Unicomp Model M Ten Keyless as a house warming gift. Not wanting to look a gift horse in the mouth, I set up the keyboard on my work computer. It had been a long time since I tried a buckling spring keyboard, and I wanted to give it a fair shake. I used it for over six months. While it's solidly built, the key pressure required was higher than that of the Cherry MX Blue switches that I'm use to. The key presses also sounded a bit more hollow. Eventually, I switched back from this keyboard to the CM Storm Quickfire TK on my work machine, at least for a short while.
SliceMK (Wireless Ergodox Clone)
The ErgoDox is a famous split keyboard with open source designs. As with a lot of open hardware, this leads itself to a variety of clones, and customized versions. I was drawn to the SliceMK, a variation of the ErgoDox with wireless support and hot plug switches.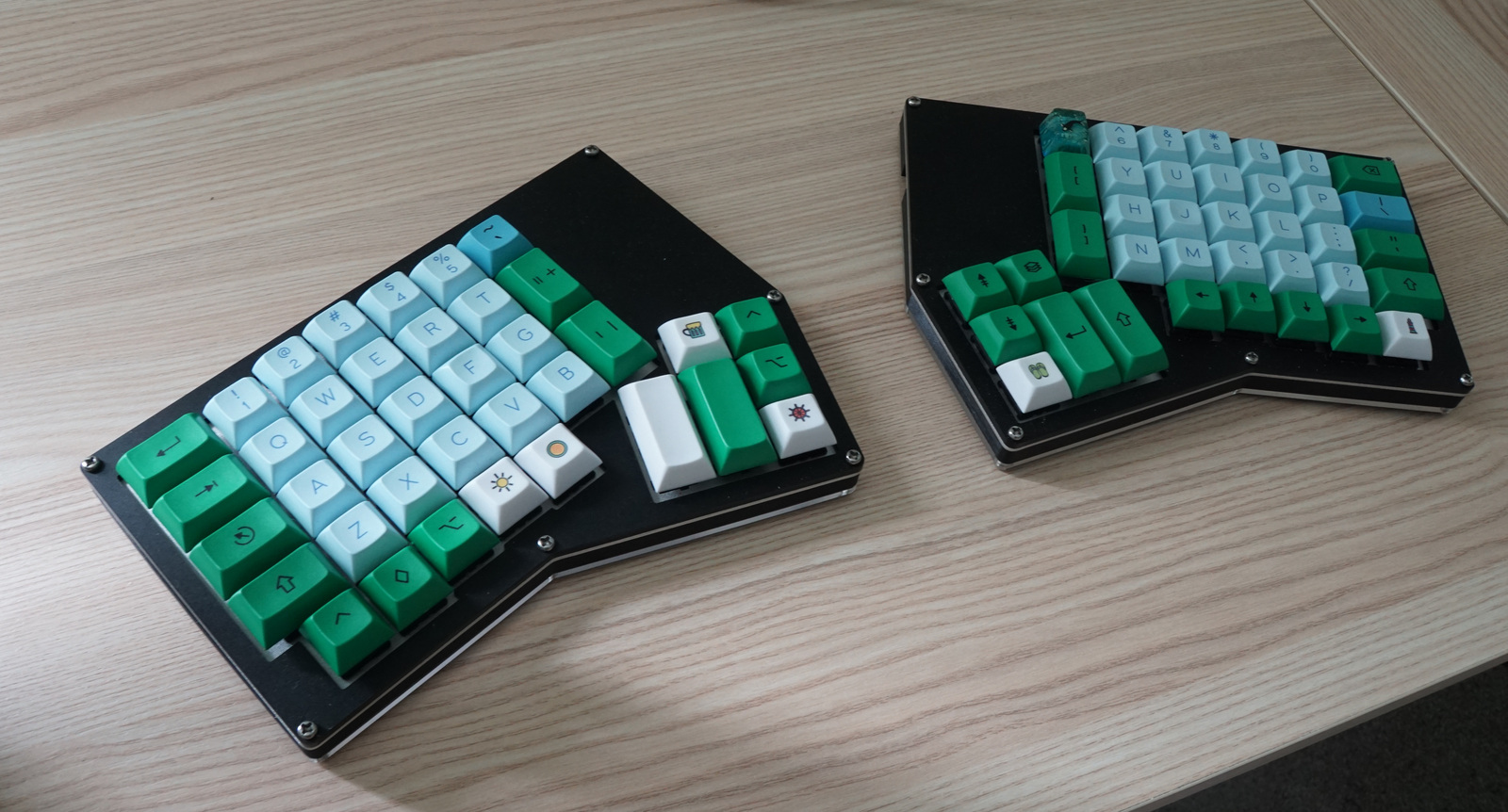 The SliceMK had a higher than expected learning curve. I never learned to properly touch type, and I suspected that was the reason I missed almost all key presses when I first got my SliceMK running. It turns out, this was much more likely due to the keyboard having an ortholinear layout1, where the keys are all lined up in columns instead of staggered. The slight offset took me a few weeks to get use to. I started using touch typing tools, including some of the classics (which I never actually used growing up), in order to retrain my brain for this interesting layout.

The SliceMK also has an online firmware configuration tool, and it took me over a dozen iterations before I finally settled on the following layout and layers.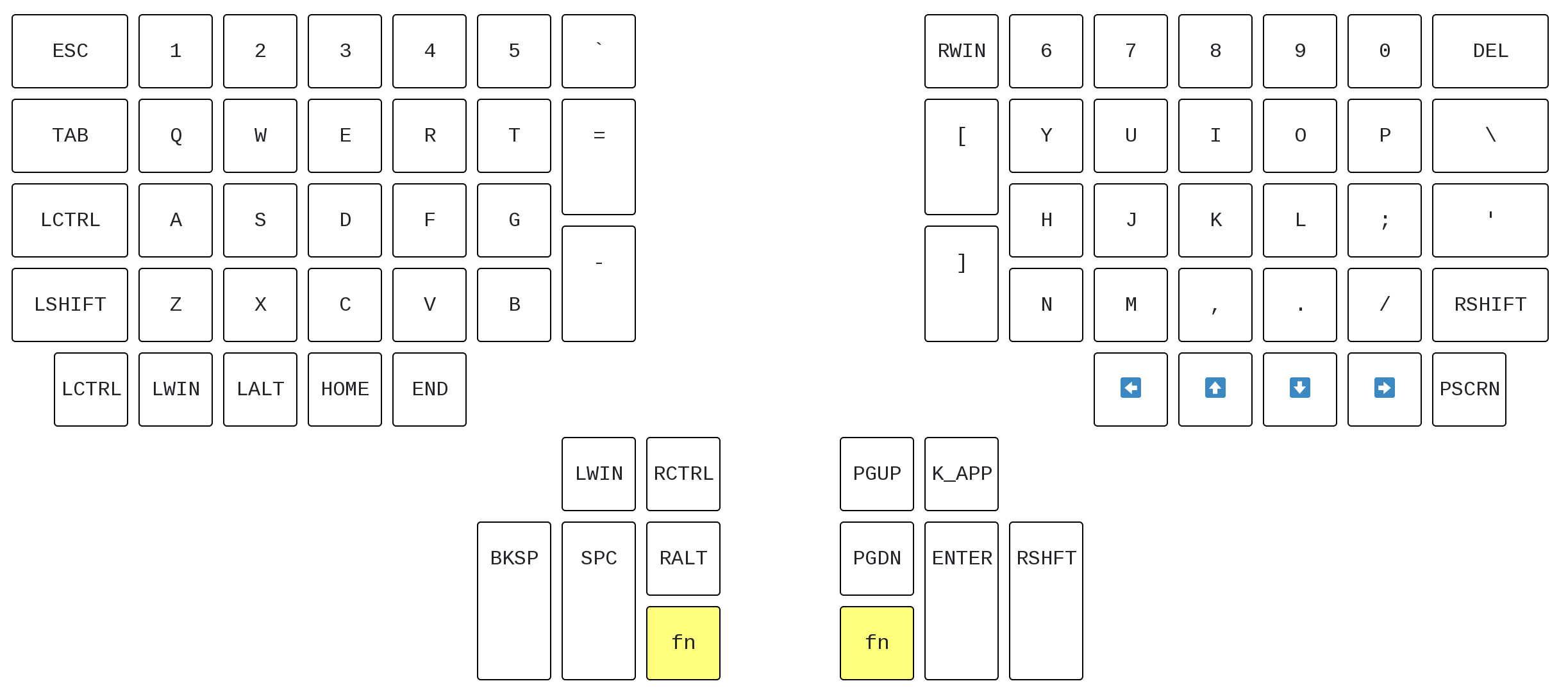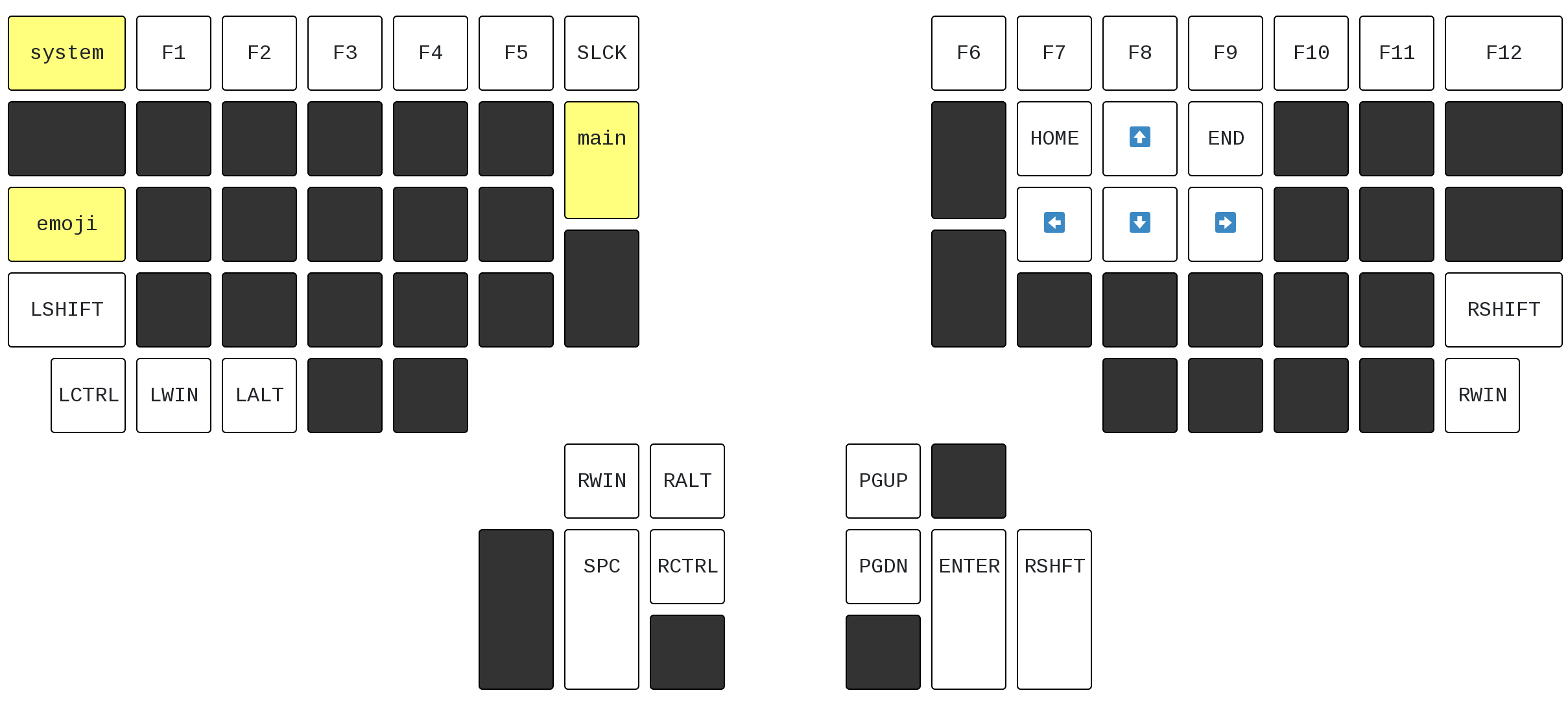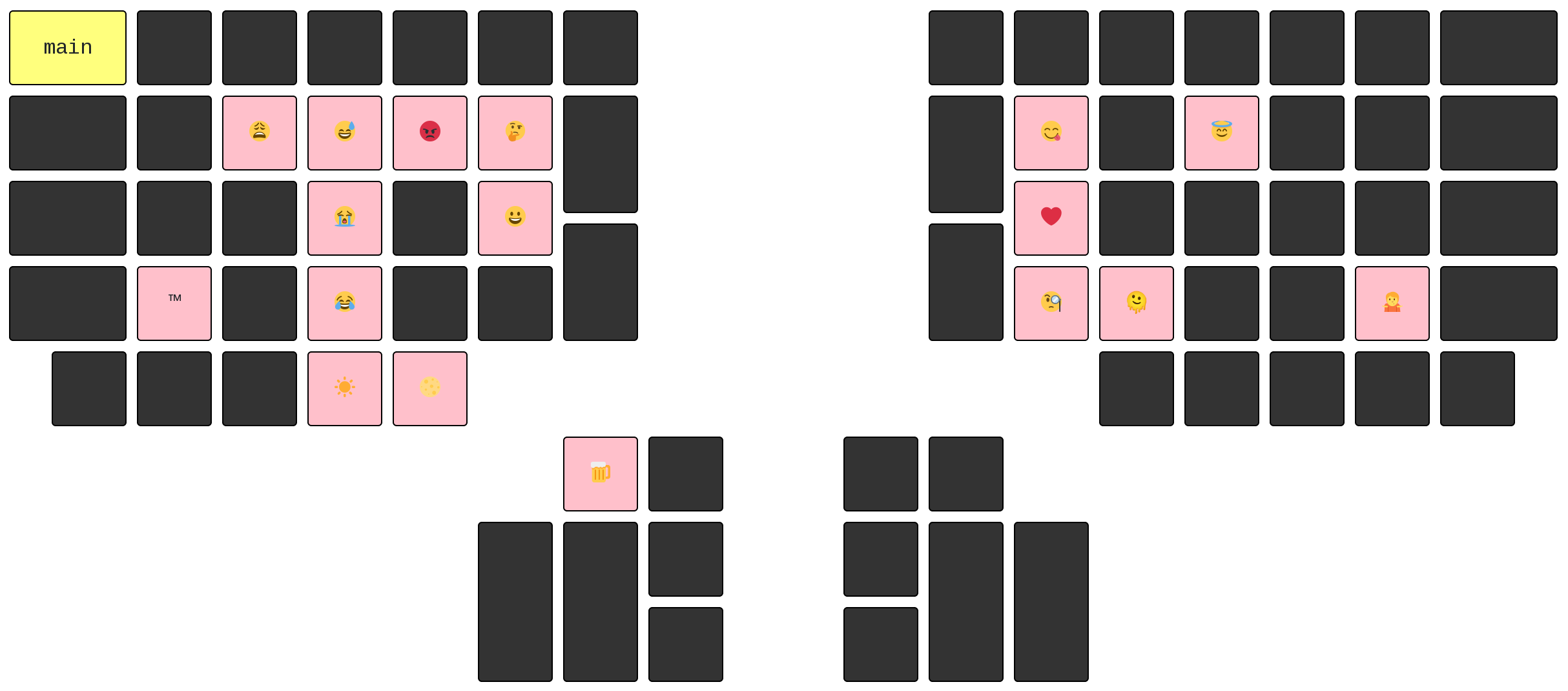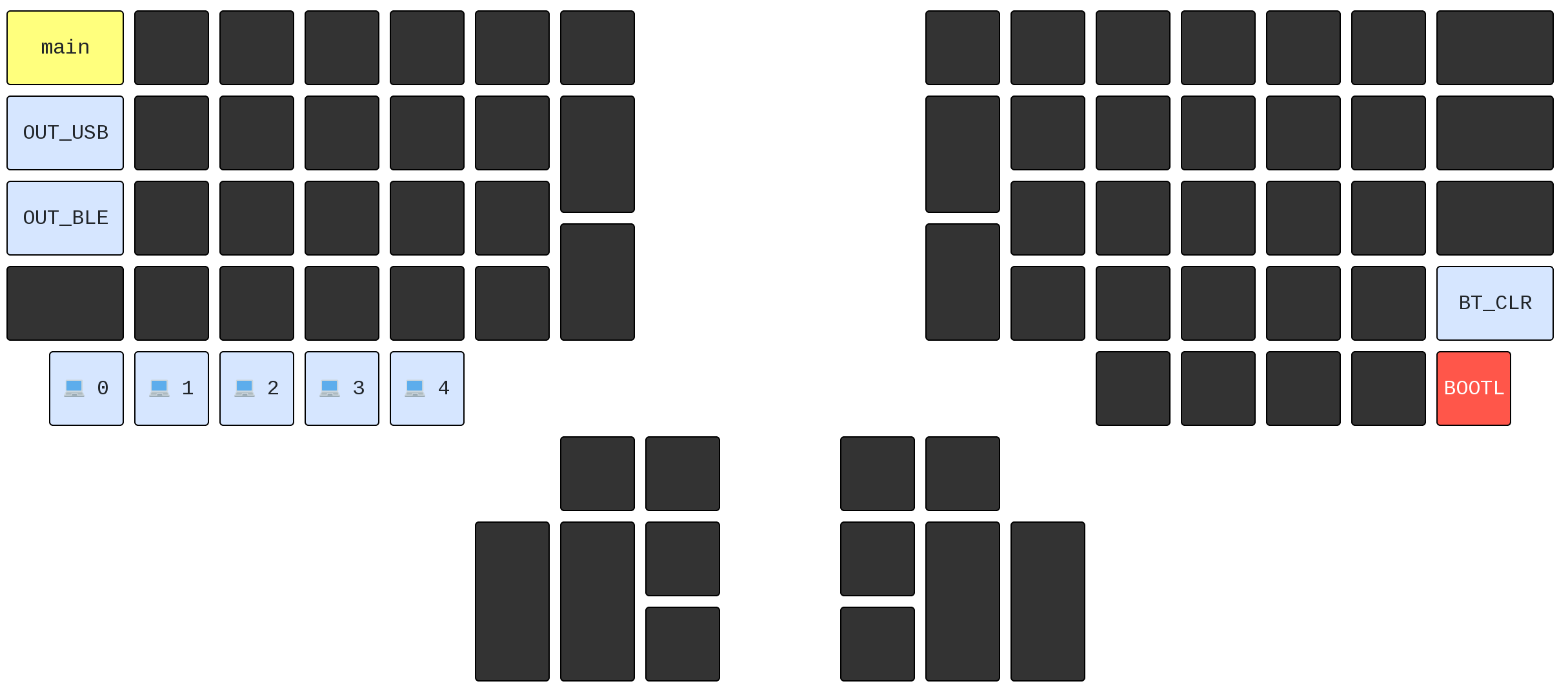 I wish there was a public board or wiki for this keyboard. There is a lot of documentation and support, but unfortunately, it's all within the history of the SliceMK Discord chat. There aren't even good instructions for building the ZMK firmware locally, making people either dependent on the web configuration tool or leaving people to dissect the Github build actions to replicate the build process.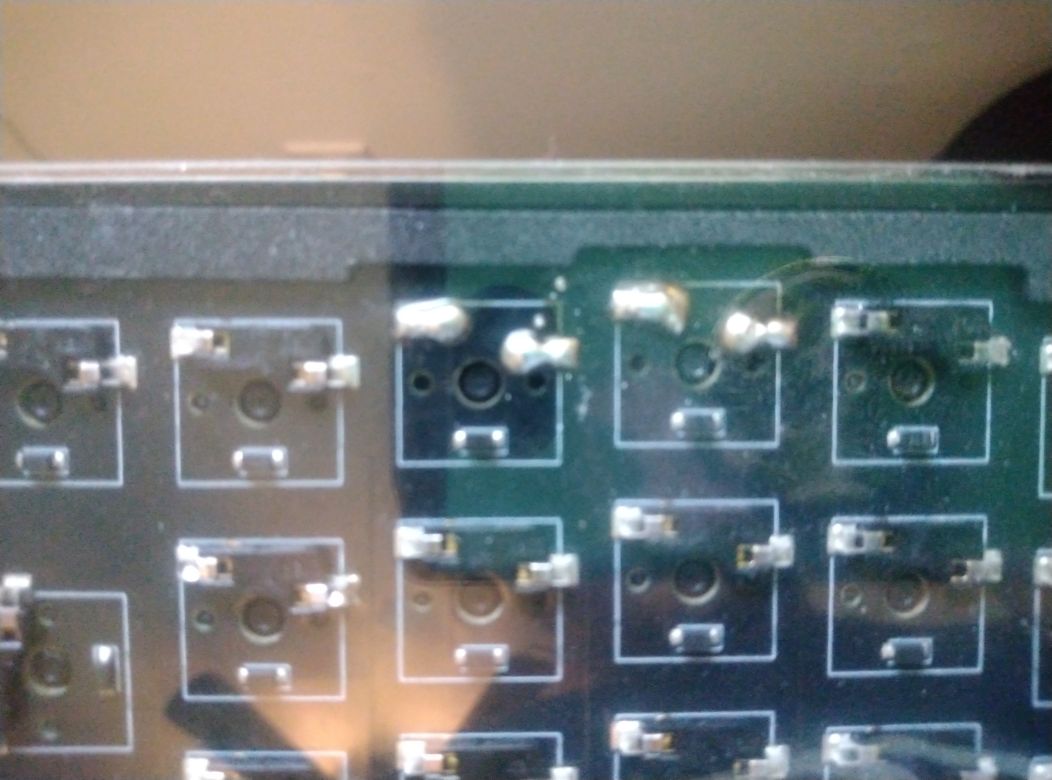 I'm not sure if I'm a fan of the hot plug key switch holders either. I had an issue where the T key started double typing. When I attempted to replace the switch, the key stopped working entirely. I ordered some replacement hot swap sockets and soldered a new one in. The T key started working again, but then the 3 and 4 keys stopped working without a lot of pressure. It seems that heating the solder may have caused some of the foam on top to separate, and no longer provide enough pressure for switches on the top row. After a failed attempt to replace the hot swap sockets, I ended up just soldering the switches directly to the printed circuit board.
| | |
| --- | --- |
| ErgoDox (SliceMK) Wireless Lite (w/Black Acrylic) | $200 |
| ErgoDox Wireless Lite Foam | $25 |
| ErgoDox Graffiti Wrist Rest | $18 |
| Shipping (SliceMK) | $5.99 |
| DSA "Seafoam" Keyset (Alpha 52 keys) | $70 |
| DSA Green Ergodox Modifiers (44 keys) | $62 |
| Shipping (Keycaps) | $12.07 |
| CherryMX Blue Switches | $25 |
| Shipping/Tax (switches) | 8.43 |
| Total | 426.49 |
The SliceMK is not as bare bones as some keyboard kits. It came mostly ready to go, only requiring the buyer to connect the batteries, add key switches and flash the firmware. Still it wasn't cheap either. Besides the keyboard kit itself, I also had to order switches and key caps. Because of the investment I really wanted to give this keyboard a fair run. Conceptually, I like the entirely separate halves, and how they allow my arms to rest naturally further apart.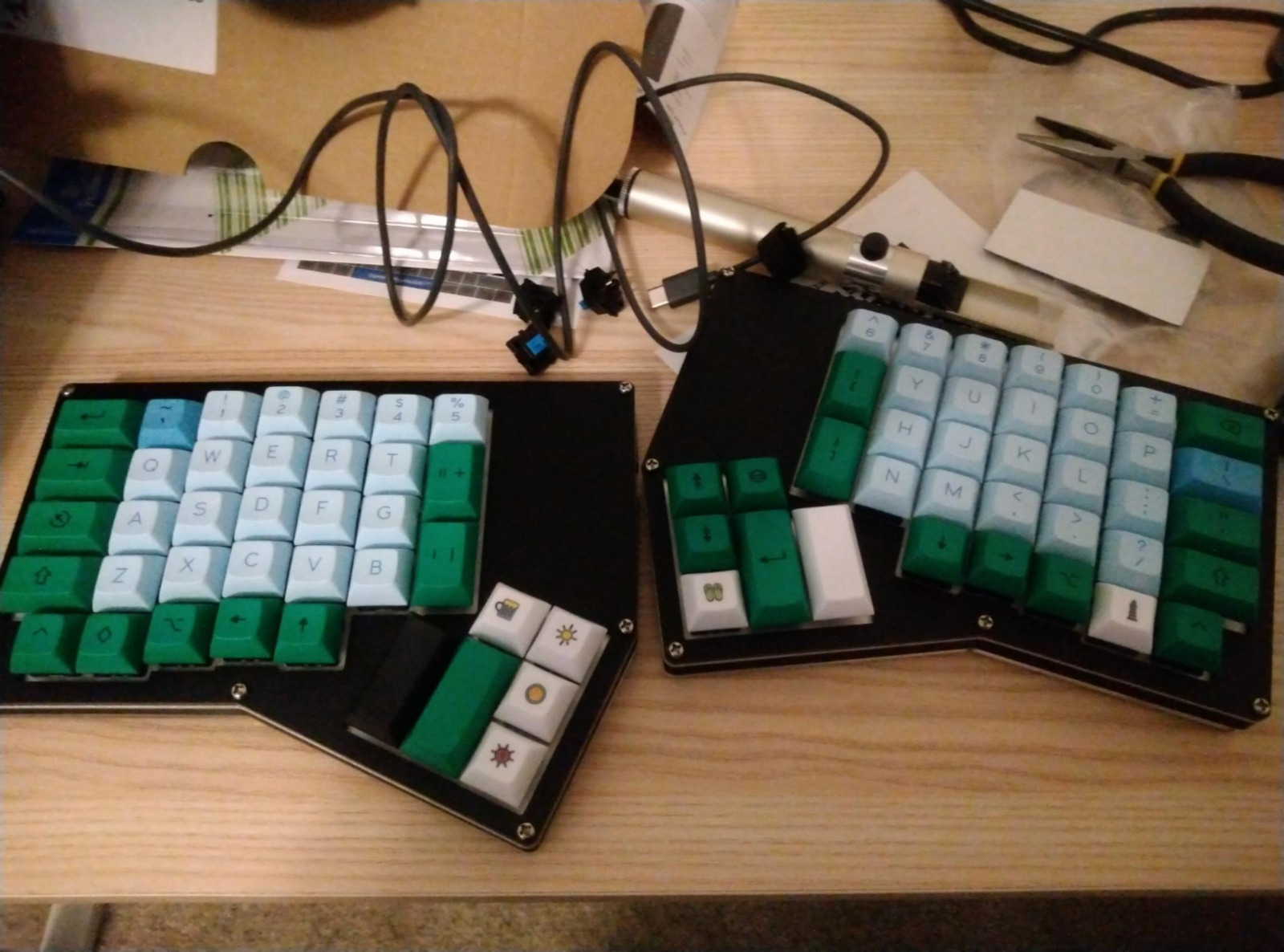 However, after a few months, I still couldn't get my typing skill to where it was on a traditional staggered keyboard layout. I also couldn't get the ZMK firmware to emit a scroll lock code my KVM switch would recognize, which I would normally use as a keyboard shortcut to switch computers2. Eventually I went back to a normal keyboard on my personal machine, and moved the SliceMK to my work laptop where I still use it currently. With as much work I've put into assembling and repairing the SliceMK, I'm not quite ready to give up on it yet.
Royal Kludge 84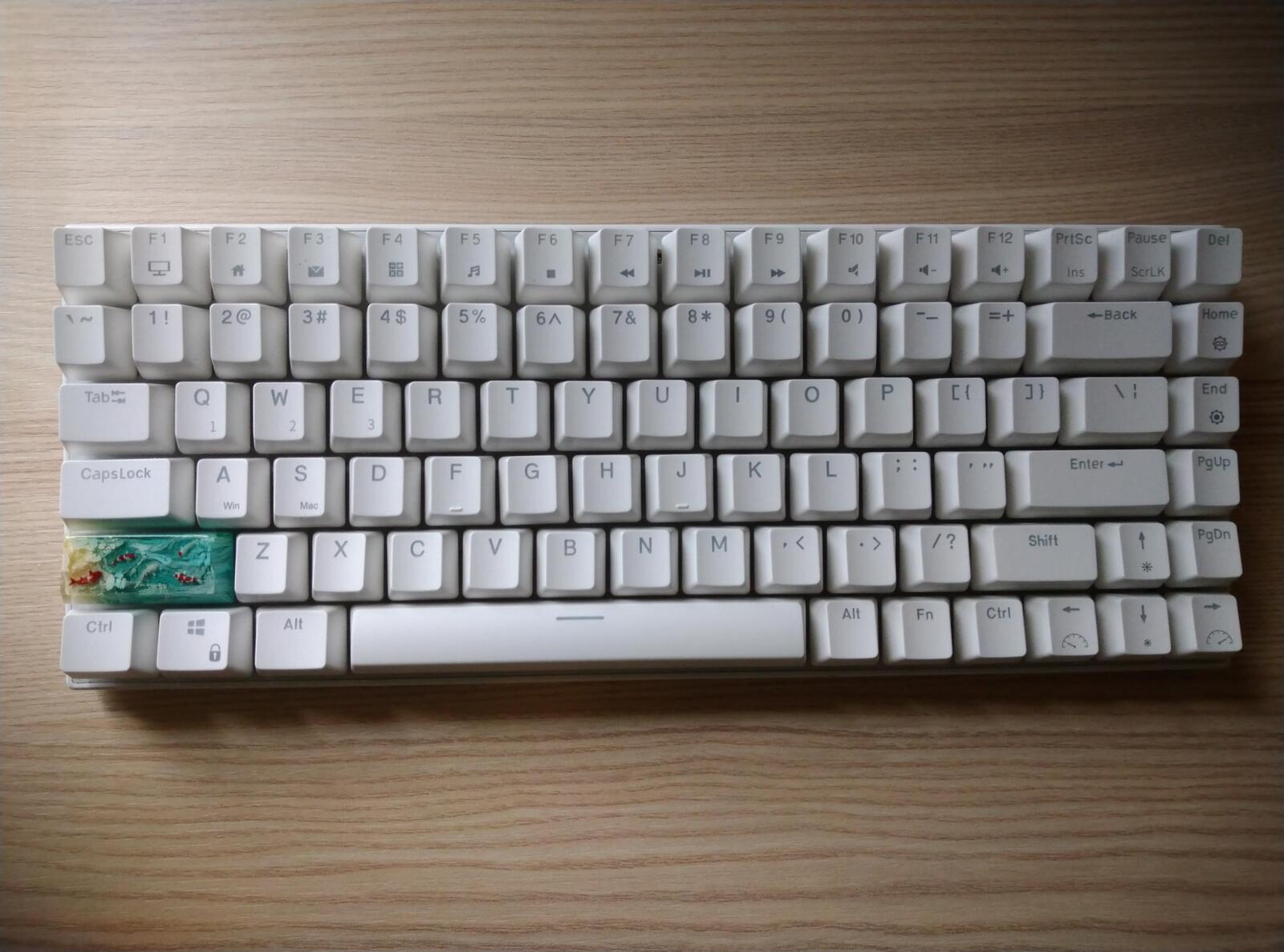 On my personal machine, I switched over to the Royal Kludge 84 (RK84). It's a wireless 75% keyboard, very similar to my Vortex Race 3, but with OEM profile keycaps3 instead of the shorter DSA keys. It also has some fun RGB modes, such as fading on key press, that are kinda nice and not annoying. At $60, it's a relatively inexpensive mechanical keyboard. However, the first one I received had two columns of dead keys and I had to send it back. So far, I haven't had any issues with the replacement.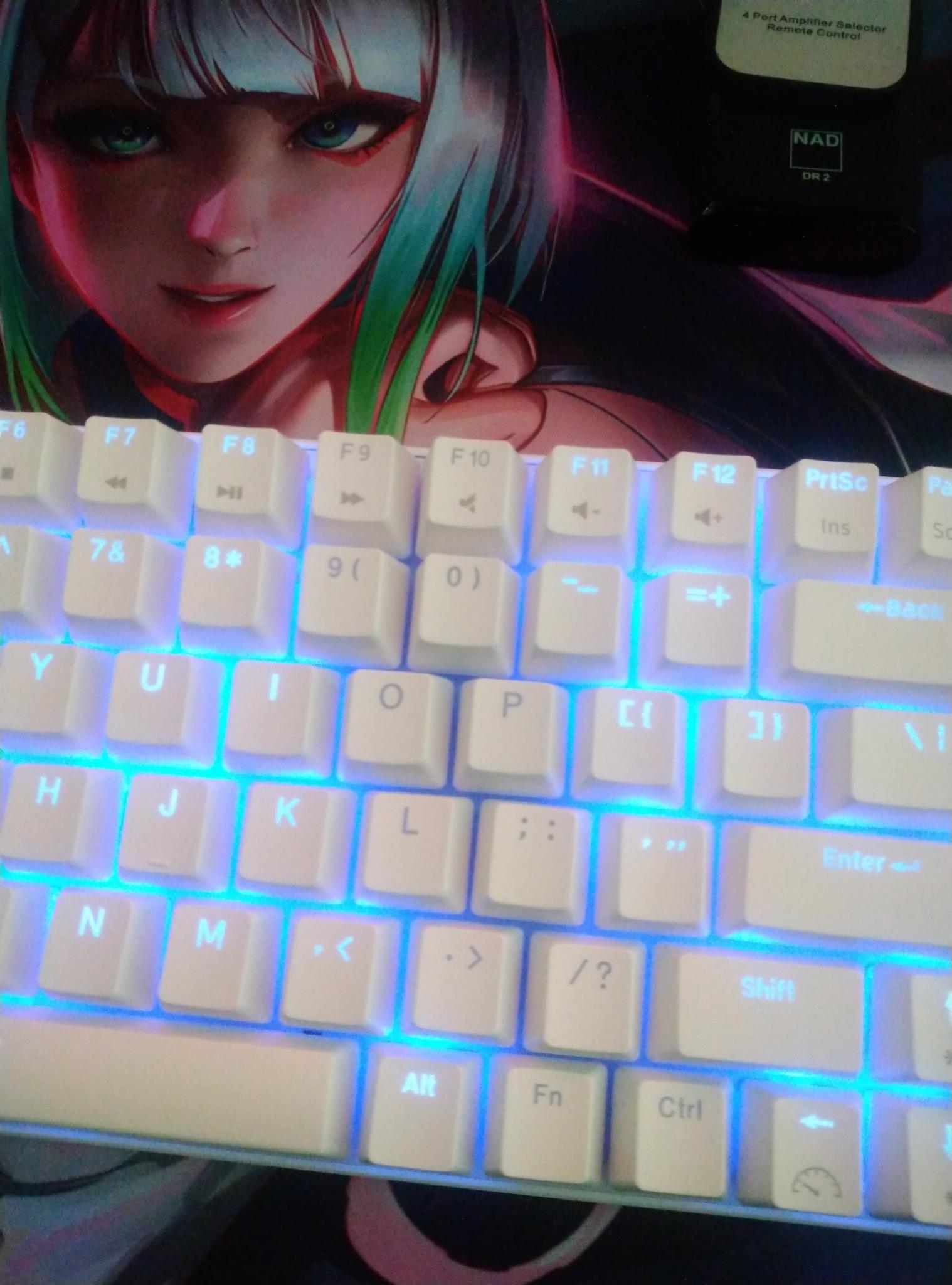 I had an extra Koi Fish keycap I used to liven up the left shift key.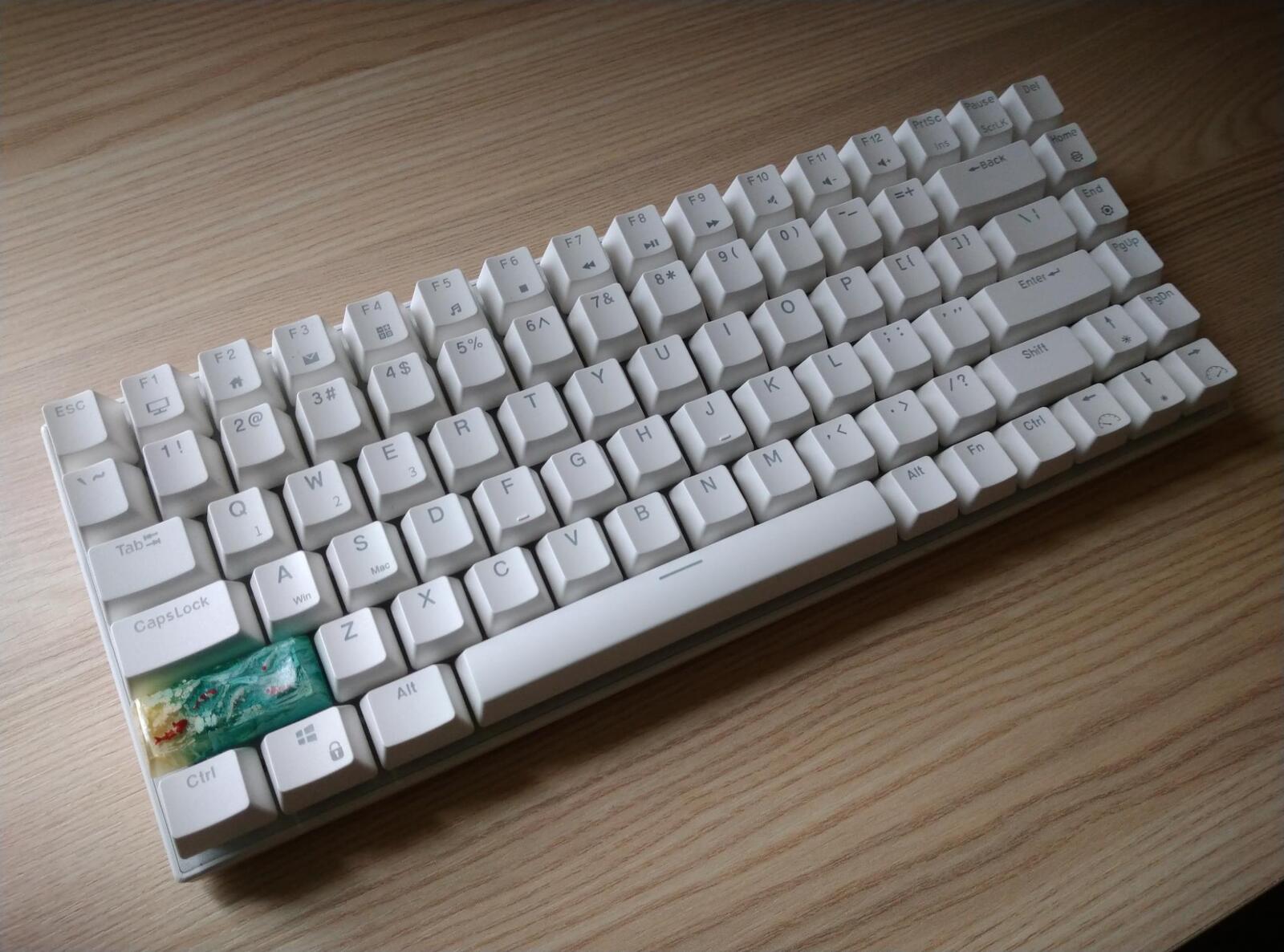 Current Keyboards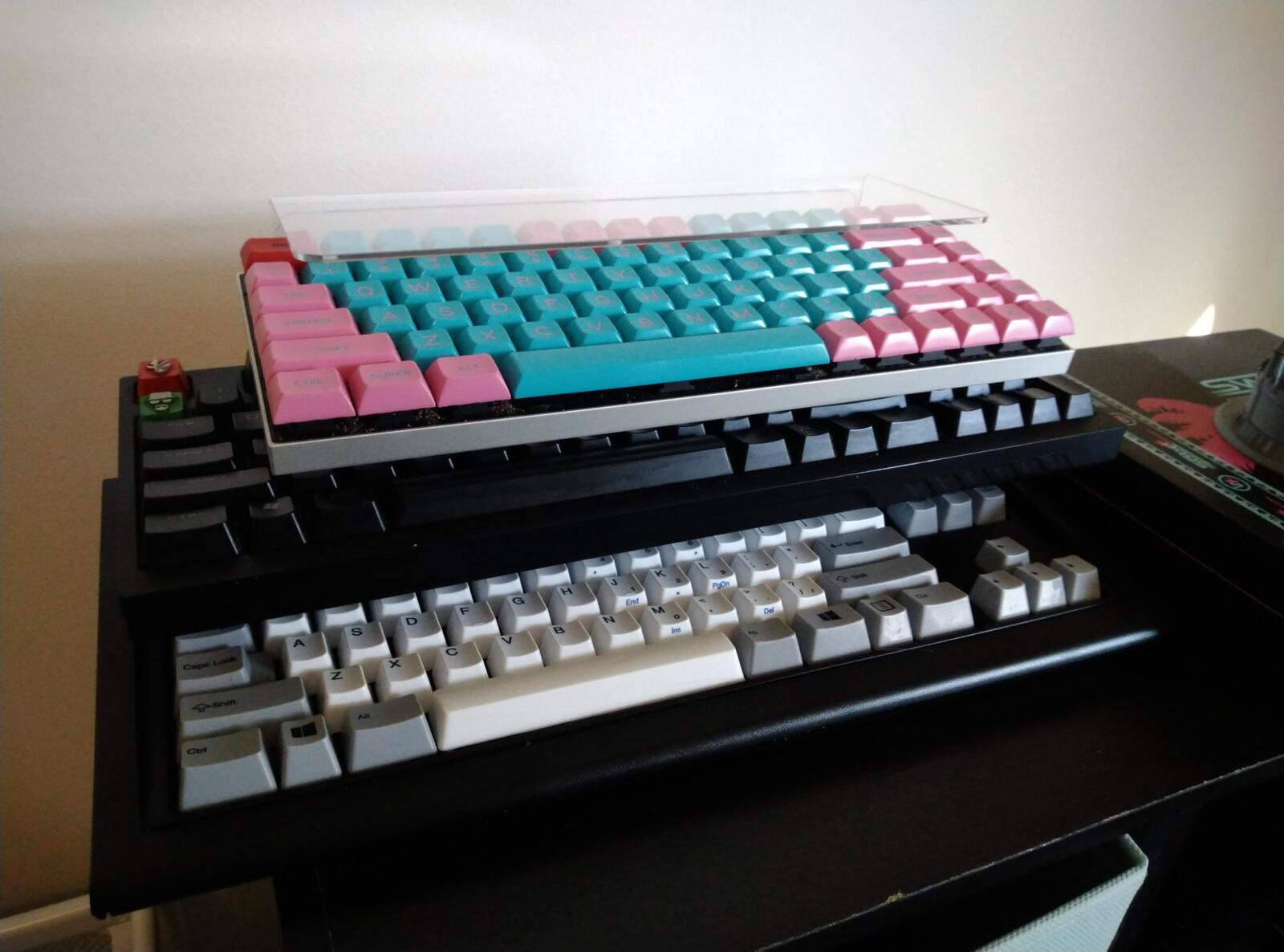 Currently, I'm using the RK84 on my personal machine and the SliceMK with my work laptop. The Vortex Race 3, CM Storm Quickfire TK, and Model M are retired to a display stand, until I find another purpose for them. I also still own the AJazz AK33, although I'm in the process of replacing a dead key switch on it, and its switches have provided to be difficult to desolder. I hope to stick for the RK84 for a while so long as it's reliable. Although I'm still not quite up to the same typing speed on the SliceMK, I've gotten proficient enough at it that it's acceptable for my work computer.